"A super low-price option for beginners."
Rocket English Review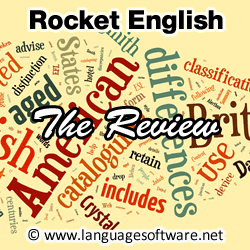 It's hard to over state the importance of learning to read, speak, and write English. English is used in a large number of countries including the United States, the United Kingdom, Canada, Australia, and New Zealand. It's also the main language used for international business, not to mention Hollywood films.
With many people wanting to improve their English skills, there are a number of courses to meet the demand. One of the most affordable ones is Rocket English. I took it for a test run and share my experiences in this review. Here you will be able to read the major pros and cons of this program. You can also see how it compares to some of the other popular English courses. Finally, I give my opinion on the overall quality of the course.
How much does it cost?
The premium course retails for $99.95 but there's the ROCKETDEAL coupon which reduces the price to $69.95. This is a one-off payment which gives you lifetime access to the course. It also includes the bonus material for free of which the equivalent value would be $49.95.
How does it work?
Rocket uses a mixed method to teach English. The course has listening, reading, writing, and speaking components. This is known as the VARK or visually, aural, reading, kinesthetic model developed by Neill Fleming. Everyone learns slightly differently, and so it's important to use different learning approaches. However, overall it is an audio-based course. Rocket English will work best for people who prefer audio learning. If you have a tendency towards visual learning, then there are better courses such as Living Language.
The course is narrated by two native English speakers Rebecca Miller and Rick. These two audio tutors take you through the course material and share personal insights which make it more fun to learn. Each lesson is broken down into 30-minute audio sections. These lessons focus on a key piece of vocabulary supported by conversation. In total there are 32 of these languages lessons.
Pros
Guides give the course a personal feel – The two English native speaking guides, Rebecca and Rick, give the course a personal feel. Having the same guides through out the course gives Rocket English a sense of continuity that is lacking in other courses where you are not properly introduced to the tutors. Rebecca and Rick also share personal experiences and tips which enhance the learning process.
Personalized dashboard is useful – The course includes a personalized dashboard. Here you can receive recommendations about which exercises to perform based on your preferred learning style. You can also quickly see how you are progressing through the course and how to best use English Premium.
Uses the chunking approach – Rocket uses a chunking approach to teaching English. Each of the lessons is broken down into 20-minute sections, which is believed to be the optimal length for recall.
Excellent value for money – At only $69.95 for the complete course Rocket English is excellent value for money. As you can see below, this is significantly less than the cost of other English courses.
Writing practice included – The program includes what is called the Write It! self-testing tool. This involves listening to an English speaker and then writing what you have heard in the empty space provided. This is an excellent way of developing your ear for English and translating this into the written form.
Cons
Quizzes are limited – The quizzes are fairly limited. They use a multiple choice approach which doesn't give you a very accurate gauge of your progress. Compared to the quizzes on offer at other courses such as Living Language these seem fairly primitive.
No language specific courses – Most of the other major language courses offer language specific ESL (English as a second language) courses. For example Living Language offers ESL courses for Spanish, Japanese and Chinese speakers in addition to their main English course.
Technology can seem outdated – Compared to the sophisticated voice recognition technology that courses like Rosetta Stone and Tell Me More offer, it can seem very outdated. The "fill in the gap" software is hardly what you would expect from a modern multimedia language course.
How it compares to others
In terms of price Rocket English is a very attractive option compared to other courses. Living Language online costs $150, Tell Me More costs $484, Rosetta Stone costs $384, and Pimsleur costs $119.95. So if you are on a budget, you may want to choose Rocket.
Rocket English is fairly limited in content and sophistication of the course compared to Living Language (my review) or Rosetta Stone (my review). While Living Language is more expensive, it is still affordable for most students. In addition to the 46 lessons that you get with Living Language, you also get access to an online tutor. This allows you to practice English with a native speaker and ask any questions. This kind of personal attention is worth the difference in price between Rocket English and Living Language.
As noted above, the technology used in this program is outdated. Rocket English does track your progress, but it is very unsophisticated compared to the tracking and adaptive learning on offer at Tell Me More (my review). Rosetta Stone and Tell Me More also use full video and voice recognition technology. This allows you to simulate the experience of having a conversation in English.
Summary
The two "tour guides" give the program a personal feel..
There are plenty of options to personalize the course.
The chunking method makes the program entertaining to use.
The self-testing tool for writing practice is helpful.
Low price ($..95 in total for lifetime access)
The course language is English. Therefore instructions can be difficult to understand for foreign speakers.
Limited quizzes
Old-fashioned feel of the user interface.
Conclusion
Rocket English is a good course, albeit not quite up to the quality of the other available products. If you are looking to achieve intermediate to upper ability in English, then you should opt for Living Language English. Living Language is a significantly more sophisticated course than Rocket. The main reason to choose Rocket English is the price. At $69.95 (with the ROCKETDEAL coupon) it offers a good introduction to English, but you will probably need to upgrade to a different product as your skills improve.