"The best choice for audio and on-the-go learning."
Rocket German Review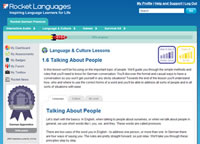 Two weeks ago I signed up for the online trial of Rocket German. The free trial includes six days of access to the full course. Once registered, you can easily download their popular audio lessons and other materials for free as well.
How it works
The premium course includes 31 interactive audio lessons, each approximately 20 minutes long. The audio is of high quality MP3 format and can be transferred between digital devices for multi-platform playback. The audio is also provided in written transcripts so you can compare the English-German translation and learn to write native phrasing.
To increase vocabulary quicker than other programs, Rocket German engages students with MegaVocab, a vocabulary recall game that provides an entertaining way to learn new words. It even goes beyond language learning and takes the learner on a cultural journey to learn native ways and traditions through 31 illustrated language and culture lessons. These lessons feature lots of embedded audio clips, exercises and activities, providing more than 110 hours of comprehension. In addition to this there is the MegaVerbs software game designed to teach new verbs.
People often worry about lack of support and motivation. Rocket German addresses these issues by conducting periodic tests and awarding certificates for your progress, just as they would in a classroom learning environment. If you have any questions regarding your course or the language in general, you can email a tutor or post a message on the Members Only "Learn German" forum where a team of native speaking teachers and fellow enthusiasts will answer your queries. The course provides unlimited access to the forums, which is like having a German teacher on call 24 hours a day.
As mentioned previously, this course is multi-platform compatible. This means that you can learn German on your car stereo, on your iPod or iPhone, and even when relaxing at the beach with your MP3 player. These portable lessons mean you don't have to attend a class, saving you considerable time and money. The written PDF files that help you learn grammar are also transferable to digital devices.
Summary
A highly engaging and multi-faceted course.
Dual language and cultural learning approach.
Includes their popular audio lessons in MP3 format.
Suitable for all levels of proficiency.
60 days money back guarantee.
6 days free trial access to full course available.
Lack of writing lessons for highly advanced learners.
No skills assessment at the beginning of the course.
Conclusion
I love Rocket German for its versatility (online, mobile, audio learning) and attention to detail. The audio downloads for my phone are awesome to not let my progress fade away. Also, the whole online-based approach makes it easy to continue with your lessons once you've started; you won't need any backups as your course progress is being tracked and stored online. Basically you can just log in from anywhere and continue with your course, without having missed something. That made it easy for me to catch up without losing the thread of it. I found the course to be fun, engaging, and loved the multi-faceted approach to learning, which ultimately motivates and contributes to someone's success. It's currently also a real bargain at only $99.95 instead of the usual $299.95. All this, the free trial option, and the overall quality of the package makes it my Editor's Choice.