"Currently the most engaging and fun course to learn Mandarin."
Rocket Chinese Review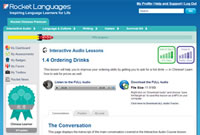 I recently signed for the free trial of Rocket Chinese, which includes 6 days access to the full course. Chinese is without a doubt one of the hardest languages for Westerners to learn, and up until now learning to speak Mandarin to a level of proficiency outside of the classroom environment has been almost impossible. Mandarin is a language that is easy to become frustrated with, and learners notoriously become disengaged and quit. With the introduction of this program, Rocket Languages claims to "have made learning Mandarin an interactive and enjoyable experience". Is that a legitimate statement? Read on to find out.
How it works
Rocket Chinese incorporates a plethora of training exercises designed to help the student through the learning process. The program fuses tools such as quizzes, games, performance tests, and cultural lessons into a complete Mandarin course. I found especially the cultural lessons and games to be positively engaging and fun to use in an interactive way. There are 31 language and culture lessons that comprise easy to follow videos and step-by-step explanations of the Chinese writing. Also included are over 300 audio clips that help you master pronunciation. Each conversation is broken down into easily manageable parts with written transcripts of each conversation in Mandarin Chinese (Pinyin - Romanized Chinese writing) and the English translation. Language certificates are awarded as you progress through the levels to provide a "classroom sense of achievement".
The course moves through a number of subject matters that will prepare you for visiting and living in China, including Greeting, Meeting, Food and Drink, Travel, Making Plans, Out on the Town, The Perfect Tourist, Getting Around the City, Points of Discussion and more. However, the Rocket Chinese approach isn't to simply teach you words and basic phrasing, but to help you understand the linguistics and gain a thorough understanding of the culture. The cultural lessons are especially important because they allow the learner to understand why and how certain words are used in sentences. These lessons incorporate helpful everyday phrases and common Chinese conversation, and also teach the learner how to avoid cultural faux pas that can cause embarrassment.
Rocket Languages has taken into consideration that as adults we have limited time to dedicate to learning a language, and the program is designed to be recreational and fun to use while easily fitting into a busy lifestyle. This ensures you don't feel like you are leaving work only to go to work again!
It's multi-platform compatible, which allows you to learn on any computer online. The lessons can be transferred to an iPad or Android device. The audio lessons work on any standard mp3 player. This is useful for people who don't have hours to burn at the computer and want to learn on the go, in the gym, or at the airport.
Rocket also seems to be extremely confident in providing a satisfying learning experience. So much so that they offer a 60-day no risk money back guarantee.
Summary
An engaging, fun and easy way to learn Mandarin from basic to highly proficient level.
Dual language and cultural learning experience.
Solid focus on colloquial and common native conversation.
Language certificates awarded based on progress (a great motivator).
Affordable in comparison with direct competitors ($99.95).
60-day risk free money back guarantee.
No advanced reading and writing material.
Doesn't cover "writing" on an advanced level.
Conclusion
Rocket Languages provides a complete Mandarin language and cultural learning experience, capable of preparing you for a short holiday, extended travel experience, or work placement. The program is engaging and innovative, drawing upon a multi-faceted approach to learning instead of the outdated image recall and repetition techniques used by other market competitors. The use of certificates to reward progress is a much welcome pat on the back and great motivation enhancer. Rocket Chinese is fun and innovative, and arguably the best, most affordable Chinese language learning program on the market. It is currently priced at just $99.95 ($299.95 RRP), which makes it my Editor's Choice for learning Chinese.