"It works, but there are better ones in the competition."
Rosetta Stone Review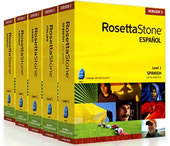 For starters: Rosetta Stone might not work for all types of learners. I have written lots of reviews on language learning software and found better programs at a lower price out there. For many people, learning a foreign language can be quite a challenge. It becomes frustrating, and frustration will lead to becoming bored, and that is no way to learn a foreign language. Learning a foreign language should be fun and exciting. Not only will you be able to communicate, but you will also learn more about the culture of the foreign language that you are trying to learn.
Rosetta Stone may have a huge budget, and they may spend millions of dollars creating flashy television commercials that really make you want to buy their product, but they could really put some of that advertising money into creating a language learning software that really does work. Not everyone walks away from this software with a smile on their face and a love for a new-found language. In fact, nine out of ten people are actually angry that they spent so much money on a piece of software that makes huge promises but delivers nothing but huge disappointments. If you are looking for an honest review of Rosetta Stone, then read on.
Pretty pictures don't really help.
It may be easy to see a pretty picture or two and memorize the picture, but it does not really help you learn how to speak a foreign language. In fact, it can just make things even more difficult. Picture and word association does have its place in learning, and it can be a huge help if it is used correctly, but this software fails to make it work.
Practical everyday words and phrases are buried.
When learning any foreign language it really helps to build a strong foundation or vocabulary right from the start. The most commonly used phrases and terms that you will hear in the real world are great stepping stones to learning how to speak any foreign language. Unfortunately, this software puts them all towards the end of the lessons. You will learn some basics first, but they are basic phrases that you would never hear anyone say. How many times do you think you will use sentences like, "Hand me that car" or "I sit in a chair"? The real-world stuff like, "Where is the bathroom?" or "How much does that cost?" is buried so deep that you would have given up before you uncovered them.
Why doesn't it work?
The number-one complaint for this language learning software was boredom. Users became bored rather quickly. The software does not hold your attention, and the learning style does not generate an interest in the language that you are trying to learn.
If you want to learn something, it has to be interesting, especially when it comes to foreign languages. The more interesting it is, the more you want to learn. You will want to see what is around that next corner. You will want to see what is over the next hill. You will want to dive right into your next lesson and expand your language skills. The only thing that Rosetta Stone makes you want to dive into, is a pool with no water in it.
Summary
Study your foreign language at your own pace.
Live online tutors help you to understand the language.
Slow vocabulary learning.
Sometimes unclear quizzes.
Sometimes not teaching useful phrases.
Expensive ($299.00 USD for all five levels, which includes the CD box set and/or online access for twelve months).
Conclusion
I had a look at a lot of other Rosetta Stone reviews on the web, and most of them come to the conclusion that Rosetta Stone simply doesn't work well enough for that price. And indeed, it is expensive. Priced at $299 USD for the complete package, it's at the higher end of the language learning programs reviewed. Rosetta Stone is not all that bad, even though this particular claim "to immerse the learner in the rich history, and the vibrant culture that surrounds the language that you have chosen to speak" seem a bit too broad. However, it's a good course to get engaged and hooked on a new language, but doesn't help you to get completely fluent. Not at all.