"...the best Portuguese course on the market right now."
Rocket Portuguese Review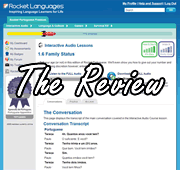 I recently signed up for the free trial of Rocket Portuguese. The free trial includes access to the full online course for six days.
With over 191 million speakers Portuguese is one of the most commonly spoken languages on the planet. And with the rise of the Brazilian economy more and more people want to master Portuguese for business or pleasure.
In this review I will be looking at the course and what features the program has to offer. Below you will find exactly what you will get if you purchase it and how much it will cost.
You will also discover what I think sets Rocket Portuguese apart from the competition, as well as a few things that I didn't like about this course. Finally I will offer my overall recommendation and point out whether it really is the best course for Portuguese language students.
What's inside
Rocket Portuguese contains the following components
31 Interactive Audio Lessons - This is the main part of the course. Each of these audio lessons is approximately 25 minutes long. When using the audio lessons you are provided with prompts where you speak along with Tereza and Paulo - the tutors of this course.
31 Language and Cultural Lessons - This component includes step-by-step instruction on Portuguese grammar and how to construct your own sentences. It also includes several hundred core Portuguese words and phrases.
Personalized Dashboard - Here you can access your personal tracking and lesson recommendations. These show how you are progressing with the Rocket Portuguese course and tell you what you should concentrate on next.
Bonus Survival Kit - The full package comes with a bonus survival kit with 10 interactive lessons that focus on the key vocabulary and phrases you need for travel.
How much does it cost?
Rocket offers two versions, which are priced differently. These two versions are:
24 / 7 Life Time Online Access - Online access to the Rocket Portuguese course is $99.95. With this version you get online access for life to the complete Rocket Portuguese course. That also includes any upgrades that occur in future.
20 CD Pack - This is the physical CD version. It's priced at $299.95 and includes free shipping anywhere in the world. When you purchase the 20CD pack you get online access included. The only difference between this and the 24 /7 online access course is that you will receive physical CDs.
Pros
6-Day Free Trial - Rocket Languages offers a six-day free trial, so that you can test the product before committing to purchase. This free trial does not require you to supply a credit card number. No other Portuguese language course that I have reviewed offers such a trial, which demonstrates Rocket's confidence in the course.
Native Language Instructors - It uses two language guides to take you through the course, Tereza Pereira who is the native Portuguese speaker and Paulo who is the English Speaker. Being able to hear Portuguese spoken by a native speaker is certainly great. Tereza and Paulo offer some interesting and entertaining additions about life in Portugal.
All Lessons Are Downloadable - One of the problems with some software language courses is that you need to be in front of your computer in order to use them. Rocket Portuguese allows you to download all the audio lessons as MP3 files so that you can listen to them anywhere. This allows you to study in at the gym, while doing your chores, or on your daily commute in the car.
Can Record Your Pronunciation and Compare - The software allows you to record yourself and then play that back with an overlay from a native speaker. This allows you to quickly improve your pronunciation. It is also an improvement over some other courses such as Berlitz, which uses "voice recognition". While voice recognition sounds good, it rarely works properly and can be very frustrating. The Rocket Portuguese overlay method is much simpler and works better.
Affordable Price - Lifetime online membership to the Premium class costs $99.95, in comparison its nearest competition Rosetta Stone Portuguese costs $399.95. While there are a couple of courses less expensive than Rocket Portuguese, there are none that are this extensive and include the same functionalities.
60-Day Money Back Guarantee - This allows you to have your entire purchase refunded within 60 days if there is any reason why you are unsatisfied with the course.
Free Shipping - If you purchase the 20-CD course, you are also provided with free shipping to anywhere in the world. In addition you can immediately access to the course online.
Cons
Public Homepage Is Overly Promotional - It is hard to find important information about the product. This is not a problem once you purchase the course, as the member portal is clear and easy to navigate.
No Adaptive Assessment Testing - Rocket Portuguese includes multiple choice quizzes where you can asses your current level of ability. However, there are no adaptive assessment tests such as those included with "TELL ME MORE" language courses, which you can easily use to gauge your current language ability. For brand new Portuguese learners this will not be a problem, but if you already have either basic or intermediate knowledge of Portuguese, you may want the option that helps you determine which lesson you should get started with. Once you begin the course, your progress is tracked and you are given lesson recommendations on what Rocket thinks you should concentrate on next.
Summary
Very engaging and easy to navigate
Up to date language learning materials
Includes their popular MP3 lessons for on-the-go learning
Affordable and offers more value than similar packages
6-days free trial access to the (paid) course
Lack of initial skill level assessment
Conclusion
Rocket Portuguese receives my Editor's Choice award for the best teaching style and up to date materials, which include portable lessons for an iPhone, Android, or iPad. In terms of value for money and the quality of the course I believe it is better than any other Portuguese language course currently being offered. With this program you can go from complete beginner and achieve intermediate to advanced Portuguese conversational skills in a relatively short period of time.
Rocket has really removed buyer risk by allowing its customers to try the course out for free for six days, in addition to offering a 60-day money back guarantee, which makes it one of the most popular Portuguese language courses on the market as of now.