"An excellent Arabic course with superb audio lessons and games."
Rocket Arabic Review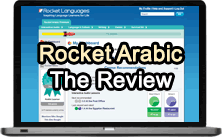 I recently got my hands on Rocket Arabic by signing up for their free trial of the full online course. The trial includes access to the complete online course for 6 days. In this review I have taken my personal experiences into account as well as facts and features that this Arabic course has to offer. I will describe the Rocket Arabic course material, pricing options, some of its best aspects, and what sets it apart from much of its competition.
I will also detail some of the weaker points of it to help you decide whether this is the right course for you. Finally I will compare Rocket Arabic to competing Arabic language course and provide my overall opinion on whether I believe it to be worth purchasing.
What's included
Rocket Arabic is a multimedia language course composed of a number of different components. These include:
29 Interactive Audio Lessons - This is the main part of the Rocket Arabic Course. Each audio lesson is about 20 minutes long. The purpose of these lessons is to give you an opportunity to practice your spoken Arabic and to memorize important vocabulary and phrases. These lessons can also be downloaded as MP3 files and listened to on MP3 players, computers, tablets, and phones.
30 Language and Cultural Lessons - These lessons are focused on teaching Arabic grammar so that you understand how to construct sentences. Also included is important additional Arabic vocabulary as well as the opportunity to improve your pronunciation with "Rocket Record".
Rocket Arabic Dashboard - Here you can track your progress and see what you need to work on. Rocket Arabic will also make suggestions for which lessons you might want to work on next based on your personal learning style.
Rocket Arabic Master Games - The purpose of the games section is to show how to translate your listening and conversational skills into written Arabic. This is made fun through a number of different fast-paced video games.
Advanced Learning Techniques - This section is focused on teaching the student ways of improving the learning speed. This includes ideas such as how to make your study environment conducive to rapid learning.
How much does it cost?
Rocket offers two versions. These two versions are:
Rocket Arabic 24/7 Online Access - This is currently available for $69.95 (price subject to change). With the online access option you get complete access to the entire Rocket Arabic course. You also receive any updates made to the course for free.
Rocket Arabic 20 CD Course - This is priced at $299.95 and includes free shipping. You also receive lifetime access to the online course.
The only difference between the 20 CD Option and the 24/7 online option is that you will be provided with physical CDs for the course. The material is the same in both courses.
Pros
6-Day Free Trial and 60-Day Money Back Guarantee - Two things I love about this course are the trial and guarantee. With the six-day free trial you get access to the complete online course for six days and you don't need to provide credit card details. If you purchase, you will be covered by a full 60-day money back guarantee which allows you to return the course for a full refund if you are unsatisfied. Being able to try it first and pay later means that there really is no risk for the buyer.
Inexpensive Compared To The Competition - Rocket Arabic is very well priced compared to some competing language programs. For example Rosetta Stone Arabic is $399, Complete Edition Arabic is $189.95, and Tell Me More Arabic is $309. The online access version of Rocket Arabic is only $69.95, but is of better quality than most of the courses in competition.
Very Personalized - One of the best features of Rocket Arabic is that it allows for highly personalized learning. The personalized dashboard feature is very nice, and shows the progress that you are making and where you need to improve. It also provides specific lesson recommendations based your preferred learning style.
Mobile Learning - Each interactive audio lesson is downloadable as an MP3 file. This means you can use the course with an MP3 player such as the iPod or similar devices such as the iPhone or Android-based phones, desktop computers, and notebook. You can even burn the MP3 files to CDs and practice Arabic in your car.
Different Learning Modalities Offered - Everyone learns in different ways and so it is great to see that Rocket Arabic offers different modes of learning. There are audio lessons, written materials, and a number of games. While the focus is on audio instruction, these are well supported by other learning modalities.
Native Language Instruction - All instruction is performed by a native Arabic speaker Amira Zaki. Amira is a personable and interesting instructor who provides some useful insights into life in her country. For students learning in a non Arabic country, this is a great opportunity to hear how a native speaker pronounces the language.
Rocket Record - This is a special feature included in all Rocket Language courses. Rocket Record allows you to record yourself saying Arabic words and phrases and then overlay a native speaker speaking the same words. This allows you to see what mistakes you are making in your pronunciation and how you can improve.
Cons
Limited Reading and Writing - Rocket Arabic is primarily focused on teaching conversational Arabic. Being able to understand and speak Arabic is what most people purchase a language course for, however for people who want to learn to read and write Arabic this course is somewhat limited. There is some instruction in reading and writing Arabic, but it is definitely not the core strength.
Egyptian Arabic Course - One thing to be aware of is that this course teaches colloquial Egyptian Arabic. There are different Arabic dialects spoken through out the Middle East and if you are looking for a specific dialect, you may want a different course. However, Egyptian Arabic is one of the most commonly spoken dialects and is understood by most other Arabic speakers. If you choose a rarer dialect, such as Moroccan Arabic, you may find that only people from the area will understand your Arabic.
Summary
Currently the best online Arabic course on the market.
6-day free trial and 60-day money back guarantee.
Personalized learning paths.
All audio lessons are downloadable.
Only teaches the colloquial Arabic (Egyptian) dialect.
Conclusion
In my opinion Rocket Arabic is the best choice for new Arabic learners. At only $69.95 it offers much better value for money than competing courses, some of which are five times as expensive but with no more features or material.
If you are looking to invest in an Arabic language course I strongly recommend trying it first. With the 6-day free trial and the 60-day money back guarantee there is absolutely no risk in seeing if this is the right Arabic language course for you.
Overall I highly recommend Rocket Arabic to anyone who is looking to master conversational Arabic. This is a high quality and comprehensive program, with an easy to use interface at an unbeatable price and guarantees that no other provider offers.