"The audio lessons and language games are simply brilliant."
Rocket Korean Review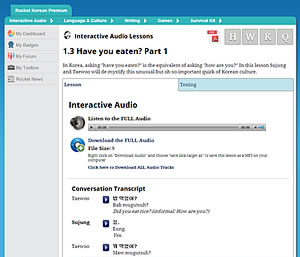 It is often said that Korean is one of the most difficult languages to learn. It is definitely a unique language and it is that uniqueness that attracts people wanting to learn a new language to ultimately try to learn this one.
Learning Korean is not very difficult when you consider that the language has one strict sentence rule. Words are often dropped from sentences and it can be really simple to pick the language up very quickly once you start to immerse yourself into the lessons.
Many people find that learning a language from the comfort of their own home is important because most of us work full time and don't have much time left over to go and take a course after work or in the evening. Rocket Korean is a computer based on line course that allows you to study Korean from the comfort of your own home.
Once you decide that you are ready to learn Korean, you simply pay for the course and then begin taking it right away. You don't have to wait for classes to convene or drive to a local school to learn, just turn on your computer and get started when you have some free time. This is what I liked the best about the program - not having to follow someone else's schedule.
When I decided that I wanted to learn Korean, I started to look around at different courses and programs, and I found that of all the courses there were offered, Rocket Korean was one of the most complete and comprehensive courses for the price.
What comes with the system?
29 audio lessons, each 20 minutes in length starting out with fundamentals of Korean for newbies and working up to extremely advanced. There are two sets of lessons, one is an audio program that is interactive and the other contains grammar lessons. Repeat each audio lesson as many times as you like, until you learn the section, regular live courses can't do that for you!
Grammar, culture, and writing lessons.
Learning games that are actually fun and help you to enjoy the language learning experience. Believe me, the games keep you engaged so that you don't even feel like you are working to learn. You get MegaVocab and MegaAudio games that teach you the language easily. When you are playing these games, you get so involved you forget that you are supposed to be learning a language, and it almost happens by accident.
Korean language learner's forum - where you can ask questions or just hang out with other people who are trying to learn the language too. The forum is moderated by native Korean speakers who can answer your questions quickly and help you get past any frustration you are experiencing!
I had no idea, but more than 1.2 million people worldwide speak Korean. It is one of the easiest of the Asian languages to learn. If you are looking to learn a second language, Korean is a good starting point. I had been looking to start learning new languages, because I am planning to travel and I thought having Korean would be a very good starting point.
Here are some other great reasons to learn Korean
You want to find a job in Korea and work abroad.
You are thinking about opening a business in Korea or want to start trading with a Korean company.
You are planning to deal with imports and exports to/from Korea.
You want to conduct social research.
One thing many people are not aware of, is that once you learn Korean, other asian languages are easier to learn for us Westerners, as you already acquired a sense for tonal languages.
Start to communicate with a wide variety of people, including singles from Korea.
Rocket Korean is designed for anyone to learn the language quickly and easily. It is designed to teach you the language more easily than any other course because it provides everything you will need to learn the language with a variety of mediums.
Learning to speak Korean is one thing, but being able to read it is quite different. Each audio lesson is complete with a transcript of a conversation that is printed in English and in Korean. There is a Vocab reference section which has Korean vocabulary that you can use to help you to understand each individual work of the transcript.
Another segment of the course is the cultural lessons. It is important to learn a language, be able to read it and also know a bit about the culture behind a language. By educating yourself about a culture, you will gain the confidence to speak with native Korean speakers. There are many levels of politeness, and you need to learn the correct levels to be used in every day conversation or you may get it wrong!
Videos can help with pronunciations of certain words. You will learn how to write words in Korean more clearly. If you are like me, you have a lot of free time when you commute to and from work, so Rocket Korean can be downloaded lesson by lesson onto your MP3 player or iPod or any other variety of devices. From there you can take your lessons with you and follow along at your own pace.
Another feature I loved about this program is that there is help available 24/7 online. You simply ask when you need to and you can share any issues or concerns that you have through the help desk or the forum.
Once you have been following along and completing the course section by section, you will want to test yourself to judge if you have made significant improvements. By taking tests, you can see what areas need improvement, if any. For me, when I saw how well I did on the section tests after completing a lesson, it gave me the confidence that I needed to continue with the course and continue to learn even more.
Summary
Entertaining and engaging course.
Progress tracking, tests and certificates provide motivation and a classroom-like sense of achievement.
Downloadable MP3 audio lessons that can be copied to your devices without limitations.
The My Vocab part of the program lets you create your own dictionary.
Interactive quizzes and games.
Cultural language lessons.
60-day money back guarantee.
No initial skills assessment.
Missing advanced writing lessons.
Conclusion
Many institutions will teach you Korean and you may even be able to find some books on the topic. This course allows you to learn at your own pace and you will learn a lot in a short time. When I compared this course to others, I found it to be the most easy to use, giving me the best results. I found the price of the course to be quite reasonable, considering the amount of extras that are included with the course, and the presence of a money-back guarantee made it a no-brainer for me.