"Uses a traditional teaching approach, which can be a tad boring."
Transparent Spanish Review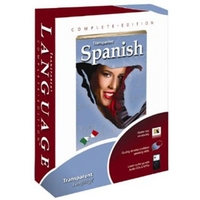 Learning a foreign language is of great value in almost field of career as it will provide a strong set of skills for securing your job. These days most companies prefer hiring a candidate speaking a second language; it will set you apart from other candidates.
Learning Spanish is one of the best ideas if you plan to travel to Latin countries. It will make you travel in a less "lost in translation" vibe and get you in touch with local people. Spanish is one of the largest markets for business. Nearly every profession in the medical, legal, financial, government, media, and even sales fields have employers seeking applicants who speak Spanish. In the past, learning the language used to be a way to open doors to great opportunities, but now it has become a necessity in our globalized world.
Spanish is one of the easiest languages to learn. Transparent Spanish is one of the best providers of language learning software which helped millions of individuals learn new languages quickly. Transparent Language Spanish Complete Edition is perfect for people who want to study Spanish in an easy learning system. There are activities such as crossword puzzles to help you study in an entertaining way. The feature I like is the definition you see when you highlight the words during study because it enabled me to learn the vocabulary faster. It is great for beginners because the teaching approach is focused on reading, writing, speaking, and vocabulary.
Transparent Spanish is one of the top Spanish comprehensive language programs online because it allows you to choose what you want to study so you have complete freedom. Before I started the course, I felt overwhelmed because of the many features but after I got the hang of it, I found working with it easy. I like the traditional learning approach, which is relative to my goals for learning the language. I have chosen this learning software because it is substantially cheaper than Rosetta Stone and Fluenz. I like it because it has multiple learning programs I can launch together or independently.
Pros
The learning tools apply to audio and visual learners.
If you have a BYKI splash card system, you can easily learn the vocabulary. I was able to create my own flashcards and download additional words.
The voice-recognition feature helped teach me Spanish pronunciation quickly because of the graphs and scoring.
It teaches you to speak the language in real life situations so you keep motivated.
Cons
I must admit that when I first learnt the language using this software, I was annoyed at how the flashcards randomly pick words and repeat them over and over.
This is not suitable for advance learners.
The software is not for Mac users.
Summary
Good language learning material.
All-in-one language learning solution.
Reliable Support.
The games haven't hit it for me.
Lack of interactive lessons on an advanced level.
A tad pricey.
Conclusion
Transparent Spanish is a great program that has been totally refined over the years. It has a lot of useful tools and features especially if you use it with Spanish BYKI flash cards. Overall you will definitely get lots of stuff for your money. If you don't know whether it's the right course for you, you can compare it with other Spanish courses on our comparison page.