"Offers flexible lesson plans and lots of flashcards."
Transparent Arabic Review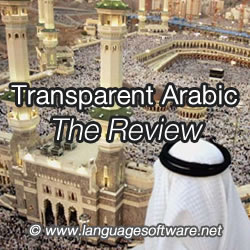 Remembering new words and phrases is one of the hardest, but also most important parts, of learning a new language. Transparent take one of the most scientific approaches to memorization with their Byki flashcard system. Here we will look at how effective this system is for teaching students to speak Arabic. In addition to finding out how the Byki system works you will also discover what Transparent Arabic costs, its main advantages and disadvantages, and an overall recommendation as to whether it is worthwhile purchasing.
What is included?
The package includes the following:
An interactive multimedia software program that teaches common conversational scenarios
The Byki flashcard system which teaches over 2000 words and phrases
Audio CDs for learning on the go
How much does it cost?
The complete Deluxe package costs $179.95. Another option is to use the online solution. This costs $16.66 a month. The online course features much of the same material as in the Deluxe package including grammar, writing, pronunciation and vocabulary practice. Finally you can opt to purchase only the Everywhere Arabic Audio Course only. This audio course costs $49.95 and includes dozens of different lessons.
How does it work?
The main software course has an interface based on a text book. You choose specific lessons by navigating to particular pages and chapters. In general it is best to start with the Byki Flash Card system to learn the basic vocabulary for a lesson. You can then use the phrases and words that you have learned to practice your reading and writing skills or to participate in virtual conversations.
The Byki system is based on the principles of spaced repetition. This is the idea that by repeating words and phrases in particular intervals the brain is able to easily store the information in the long term memory. Byki automates this process by reminding you to practice words and phrases at the right times.
Pros
Highly Flexible - Compared to many other language courses Transparent is highly flexible. You can choose to work on whatever lesson you like or to perform flashcard exercises on any word or phrase. This makes the course well suited to more experienced students who may only want to work on certain areas of their Arabic.
Flash Card System Is Excellent - If you like to learn using flashcards then you will love the Transparent system. With over two thousands word and phrases this is the most complete Arabic flash card system available.
Byki Remembers Your Progress - The software program makes a record of the material that you have covered. It also reminds you when it is time to refresh you knowledge about older words and phrases. This system of spaced repetition has been proven to be the most effective way to move knowledge from your short term memory to the long term memory in your brain. Also if you stop learning in the middle of a list, Byki remembers where you got up to for your next lesson.
You Can Try It For Free - If you visit the Transparent website you can try out the online version for free for seven days. This gives you a good feel for what the teaching approach is like. If you don't like the Transparent teaching method you can simply choose not to continue with your membership.
Pronounce Individual Words - There is an Arabic Explorer option which allows you to practice the pronunciation of specific letters. You simply need to point the Arabic Explorer on a particular letter and the software sounds it out for you. This is a great way of learning how to properly pronounce the Arabic alphabet.
Learn On The Go - You can use the audio lessons for learning on the go. The audio course has dozens of very useful lessons and makes for a very good compliment to the main course. This is useful if you like to learn while you are commuting to work or at the gym.
Reasonably Priced - Transparent Arabic is relatively well priced at $179.95. Pimsleur Arabic is $265.95 for the full course and Rosetta Stone is $379. So compared to many other courses Transparent Arabic is more affordable. However, it is still more expensive that Rocket Arabic which is $99.95 for the online course.
You Can Create Your Own Lists - The program allows you to create own lists with the Byki flashcards or to add in new words to lists that have already been created. You can also share the lists that you create with your friends.
Cons
Not Enough Structure - As mentioned above one of the benefits of the system is its flexibility, but this is also one of its main weaknesses. It is sometimes difficult to know what you should study next and it is also very tempting to simply to try one thing and then another without making substantial process. A more structured approach such as that of Pimsleur Arabic often produces faster results for new students.
Words Could Have More Context - Sometimes it is a little unclear as to what context the words and phrases that you learn should be used in. This isn't a major problem but can add some degree of confusion to your studies.
Summary
Flexible lesson plan offers various activities.
Good selection of flashcards.
You can train and listen specific Arabic words.
The flexibility of the structure can also cause someone to lose track.
Missing context explanations in explorer mode.
Conclusion
Transparent Arabic is one of the better systems for memorizing words and phrases in Arabic. The Byki system is very good and you will find that if you keep using it and following the reminders that you can learn and retain new material surprisingly quickly. Overall the course is not as strong as many others on the market. Pimsleur Arabic is better if you want to quickly learn conversational Arabic and Tell Me More is a more complete course.
Rocket Arabic in particular is a superior offering as it also includes flashcards but is priced at less than one hundred dollars. Buy Transparent Arabic if you want to work on memorizing words and phrases, otherwise opt for one of the other language learning programs that are available.