"One of the easier courses to learn German at home"
Transparent German Review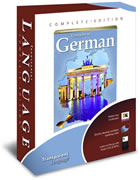 This is a personal review of my experience using Transparent German. There are several good reasons as well why people might want to learn the German language. One of them is that German, along with its many variants and closely related languages, is the most widely spoken language in Europe. If you can to speak this language, you will be able to connect with over 200 million people worldwide. It is the third most popular language taught worldwide after French and, after English, second most popular in Europe and Japan. Aside from Germany, countries where the ability to communicate in the German language would be essential are Switzerland, Austria, Luxembourg, and Liechtenstein as well as regions in the Czech Republic, Denmark, France, Hungary, Italy, Kazakhstan, Poland, Romania, Russia, Serbia, and Slovakia.
Transparent included a full language course designed for developing your conversational fluency in the fastest possible time. You can choose to learn at a pace you are comfortable with, but it is most suited for people who want to learn German fast starting with basic vocabulary and pronunciation and progressing to the more advanced areas such as grammar, reading, and practical conversation.
The software covers 15,000 words and phrases with video and native speaker audio that showed me the right manner of speaking the words along with the emotions and facial expressions that accompany them. The interactive conversation practice is an excellent feature because it has a play back capability so I can listen to it. The course makes use of MP3 files that can be used with the iPhone, iPod, or any other MP3 player. I also liked their bonus features, the online proficiency tests, interactive games, and a way to track your personal progress, extremely useful.
Transparent's Premium Edition helped me rapidly build and retain a vocabulary base, develop comprehension, and learn to read, write, and express myself in German. It was easy to learn the verbs, prepositions, and conjunctions as well as less familiar terms and terms that are uniquely German. It also taught me how to express duration with present tense and form questions. It was also very useful to learn how to speak German in the most practical situations such as taking a taxi, meeting and greeting, weather and seasons, shopping and bargaining, asking for directions, asking for the time, and more. If you want a more comprehensive package, there is the Complete Edition which includes the BYKI Deluxe 4 and Everywhere Audio programs with the Premium Edition.
Summary
All encompassing language learning materials.
Good interactive emphasis on the fundamentals.
Useful audio lessons.
Solid conversational sequences.
Has an out-dated feel.
Very pricey.
Conclusion
With the Transparent German Premium Edition anybody can learn the German language quickly and in an enjoyable manner. It's not the best program to learn German on the market, but it enables users to quickly build vocabulary, but more importantly, German conversational skills. It is a reliable choice for people planning to visit or work in German speaking countries. Compare it to other German programs and online courses on the next page.