"Not bad, but lacks emphasis on colloquial Spanish."
Rosetta Stone Spanish Review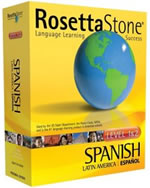 Rosetta Stone Spanish has become a popular choice for learning Spanish, a language that evolved from several dialects in the Iberian Peninsula during the 9th century and gradually spread with the expansion of the Kingdom of Castile. Modern Spanish developed from a readjustment of the consonants beginning in the 15th century. Spanish was taken to the Americas, Africa, and Asia with the expansion of the Spanish Empire from the 15th to the 19th centuries, and today is spoken by more than 500 million people.
How it works
The Rosetta Stone learning method is systematic and simple, using its trademark image recall technique to encourage the brain to associate words with images. Although this is a tried and tested learning methodology, it isn't for those easily bored by repetition, and the program lacks the multi level interaction and innovation of newer programs on the market.
Rosetta Stone Spanish Level 1 is comprised of 100 exercises divided into 4 core lessons. The program assesses each course undertaken and evaluates performance. Based on your performance the program adjusts subsequent exercises to focus on your areas of weakness. The program sets deadlines and schedules, encouraging you to learn quickly and keep up your progress.
The main focus of Rosetta Stone is repetition; to memorize images and associate the images with words. Learning spelling and refining pronunciation comes later in levels 2 and 3. Further vocabulary and conversational practice come in levels 4 and 5. The Spanish writing program is also easy to use. Simply type in a word or phrase and the program will highlight your mistakes and assist you in making necessary corrections. To add Spanish accent marks unavailable on a standard US keyboard the program provides a keyboard representation on the screen, allowing you to click and apply the desired accent mark.
There are a few modes you can use to test your memory. Delay Mode allows you to see or hear a word and after a short delay pictures will appear from which you will be asked to choose the correct match. Timer Mode allows you a few seconds to choose a correct answer before the time runs out. Test Mode provides a classroom-style test to put you under a little more pressure.
Summary
Comprehensive Spanish language learning course.
Tried and tested image recall technique ensures steady progress.
One-dimensional vocabulary learning methodology can become tedious.
No grammar book or English-Spanish dictionary included in the package.
Lack of emphasis on colloquial Spanish.
Expensive ($299 USD for all 5 levels, CD version includes online access for 12 months).
Conclusion
The Rosetta Stone Spanish program is reliable and heavily market tested, but, unfortunately, very expensive. When compared to some newer software programs on the market such as Rocket Spanish you would expect a free trip to Spain to be thrown in for that money! Although the image recall technique is championed as an excellent way to retain words, it isn't for everyone. The approach is somewhat old-school now in the wake of newer, more innovative programs that provide multi level interaction through a variety of learning mediums at a much more affordable price. If you're looking for a newer program with identical or even more features, check out the comparison.