"Not bad, but lacks forum support and is expensive."
Rosetta Stone German Review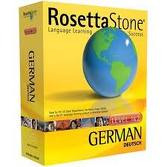 The latest Rosetta Stone German includes several new areas of learning and comes with a USB headset and microphone. The core teaching method is still the same, utilizing visual and audio associative techniques, which works well for some people but not for others. Scientific research has shown that while children learn very quickly using image recall, teenagers and adults struggle to retain information. That said, Rosetta Stone has remained a popular language learning platform, albeit fairly expensive and antiquated in many respects.
What to expect
The latest version contains 5 levels available as both an online course and CD package. Level 1 teaches basic German conversational skills, including greetings, introductions, simple questions and answers, while simultaneously building the confidence to speak the language. Its aim is to teach the core fundamentals by giving you words and phrases to memorize. You will also learn how to spell, write, and read using topics such as age, family, household items, buying and selling, introductions and greetings, time/days/months, relations, and more.
Level 2 progresses onto developing the German language skills to enjoy social interactions such as travel and shopping, and learning to share your ideas and opinions. The aim of level 2 is to give you the confidence to talk about your environment when dining out, giving or asking for directions, shopping and enjoying other basic social interactions. There is also focus on formal letter writing, telling the time, emotions and the tenses.
In level 3 the goal is to teach you how to engage in advanced level conversations. This is moving towards enhancing conversational fluency. The topics here include currency exchange and transactions, emotions, life milestones, judgments, opinions, business terminology, media, politics, and religion.
Levels 4 and 5 are where you will confidently master the conversational skills required to work or live in Germany. You will develop further vocabulary and language abilities, convey complex thoughts and ideas, and negotiate complex situations with confidence and accuracy. Topics discussed include scheduling appointments, navigating the workplace, arranging home repairs, government and citizenship, describing and solving problems, and dealing with emergency situations.
Rosetta Stone German is comprehensive in its approach, but the learning techniques are a little outdated. Many students don't make it past level 2 because they get bored of looking at pictures and playing the repetitive guessing games. The higher levels are admittedly far more engaging. At $299 the package is one of the more expensive on the market. Beware though if your Internet connection isn't fast and stable, you may experience problems.
Summary
Fully comprehensive German-learning course.
Suitable for beginners and advanced students.
Money back satisfaction guarantee.
A slower learning experience than other products on the market.
Lacks teacher and forum support.
No cultural language lessons included.
Expensive ($299 for all 5 levels).
Conclusion
Rosetta Stone German is a great package that will take you from beginner to fluent if you commit to completing the 5 levels. However, some will find this a difficult task because the course lacks motivational properties and tends to rely too much on the image recall technique, which begins to bore early in the program.