"A fine program, but def. not the best one."
Rosetta Stone Russian Review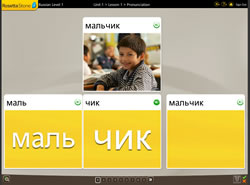 Rosetta Stone is one of the best known names in the language learning market. Rosetta Stone Russian is one of their flagship products and includes all of the features that customers have come to expect in a high priced software course. Rosetta's immersive approach to teaching, which does not include any English translation, tends to divide students into those who hate this method and those who love it.
In this review I will aim to give a balanced portrayal of the Rosetta method of teaching Russian. I will detail the features offered and explain some of the advantages and disadvantages of their approach. I will also give my own recommendation for this software and who I think will most enjoy using this course.
Key Features
Rosetta Stone is a software based course which includes 5 levels from beginner through to advanced. Each level can be purchased separately or as a bundle. Some of the key features of Rosetta Stone Russian include:
Focuses on all areas of Russian language learning - reading, writing and speaking
Interactive software allows you to practice your conversational skills
Uses speech recognition software to improve pronunciation
Mobile companion lets you study on your smart phone
Audio companion allows mobile learning either on CD or MP3
Games and social networking available
Cost
The complete Rosetta Stone Russian course is priced at $299 which includes levels 1 - 5. Alternatively there are different bundle deals which range from level 1 only for $ $179 through to levels 1, 2 & 3 for $259. There is also a 5 pay plan available where you purchase the course in five instalments of $100 over 5 months.
Pros
You can use the software across devices - Given the proliferation of computing devices such as the iPad it is surprising how few language teaching companies make it easy to use their software on them. Rosetta Stone allows you to use the same course across multiple devices which will be convenient for many students.
Immersive approach - Rosetta Stone focuses on an immersive approach to language teaching. This means that you learn in the organic a native language speaker or new migrant to Russia would. It is also why there is no structured approach to teaching Russian grammar. The course is taught only in Russian and so instead of translating into English you will find yourself thinking in Russian.
There is a lot of content - Rosetta Stone might be expensive but you also do get a lot for your money. There is approximately 80 hours of material in the complete course and 16 hours of tutorials.
Personal tutoring is available - Another nice feature of this course is the addition of live coaching with native Russian speakers. Hiring a personal tutor is expensive and so this helps to offset the higher price tag of Rosetta Stone. While this is a great feature, it is not necessarily unique, as Transparent Russian also offers web based live tutoring and classrooms as well.
Cons
More expensive than the competition - Rosetta Stone does include an extensive array of features and content but it is also expensive. At $299 for the complete version it compares unfavourably to Transparent Russian Complete which is $179.95 but includes about the same amount material.
Too much focus on rote memorization - Despite the fancy packaging at its most basic Rosetta Stone is essentially just a dressed up flash card system. All of the answers that you select from are provided in multiple choice format which means that it is possible to "guess" your way through the course without necessarily really learning the material. To benefit from Rosetta Stone Russian you need to take notes and force yourself to make sure you really understand what you are learning.
Lack of grammar instruction - The lack of proper grammar instruction is one of the most frequent complaints about the Rosetta Stone courses. This course could also be improved by a more systemized approaching to teaching the languages grammar. While many people do not enjoy learning grammar it is still an essential part of language learning for intermediate and advanced students.
Not challenging - Compared to a course like Pimsleur Russian, Rosetta Stone Russian is unchallenging. The same sentences and words often reappear, so once you have these memorized the course quickly becomes unchallenging and it is easy to lose interest.
Images can be confusing - The fact that there is no translation means that at times Rosetta Stone can be frustratingly confusing. It is easy to misunderstand what the image being displayed actually is.
Customer support issues - Many people who have had problems with their purchase report that they have had customer support issues. Customer support is often slow to reply to queries and sometimes unhelpful. This is disappointing for a company as big as Rosetta Stone.
Summary
Compatiple with most platforms.
Uses immersion method that teaches you in Russian, and not in English.
Over 80 hours of content.
Too focused on memorization.
Grammar lessons lack depth.
Pricey ($299 USD for all levels including online learning for 12 months)
Conclusion
If you do decide to invest in Rosetta Stone Russian it is a good idea to purchase a good quality Russian Grammar textbook such as Quickstudy Russian Grammar which costs less than $6. You might also want to pick up a Russian dictionary and have a notebook in your work area as these will make a significant difference to the progress that you make.
Rosetta Stone uses an immersive approach to teaching with all of the material in Russian. If you like this styles of teaching then Rosetta Stone might be for you. Also the more immersive you can make your learning experience the better. Try watching Russian movies, reading Russian books and newspapers and if possible find a native Russian speaker to converse with. If you like having content translated then you will not enjoy the Rosetta Stone system and should look at alternative options.
Overall Rosetta Stone Russian is not a bad course but by itself it will not bring you to anywhere near conversational fluency. At almost three times the price of the Transparent Russian course it will be simply too expensive for many students. If you are looking for a software based course then Transparent Russian is just as good, if not better than Rosetta Stone and with a much lower price tag.