"Not bad, but definitively not the best Dutch course."
Rosetta Stone Dutch Review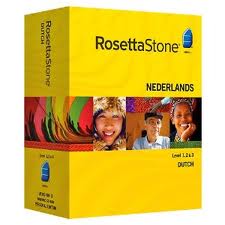 Rosetta Stone Dutch Totale is the latest Dutch learning software from arguably the #1 language learning software provider. Dutch is a West Germanic language spoken as a native language by more than 22 million people, with an additional 5 million speaking the tongue as a second language. Most native speakers reside in the Netherlands, Belgium and Suriname, with smaller groups in France, Germany and other former Dutch colonies. Dutch is closely related to other West Germanic languages like West Frisian and Flemish, and is the parent language of Creole languages and Afrikaans, so knowing how to speak any of these languages will give you a slight advantage when starting out. The Totale package is ideal for beginners, particularly those planning on holidaying in a Dutch speaking country, and contains a number of upgraded features and new interactive learning tools when compared with pervious versions.
What's inside
The "e" in Totale represents the latest Rosetta Stone commitment to e-learning. Because of rival language software taking an innovative lead in recent years, Rosetta Stone has attempted to claw back its market share by offering extra online lessons, online language learning games, and access to a learning community. There's a choice of two formats to purchase; the traditional CD boxset format, and a new online version that provides the user with access to all 3 Dutch learning levels on a 12-month subscription basis.
The first two levels are available separately as level 1 and levels 1 & 2, but buying the complete 3-level boxset is the most cost effective option, but still pricey at $259. Level 1 teaches basic Dutch conversational skills, including greetings and introductions, simple questions and answers, shopping and other useful day-to-day stuff. Level 2 instills the confidence to talk about environment, things like asking for and giving directions, dining out, and enjoying basic social interactions. Level 3 gets more technical and begins to teach the learner how to express opinions and ideas, moving toward advanced conversation.
The majority of Rosetta Stone language courses contain 5 levels, and this Dutch offering is light in comparison, suggesting a dedicated focus on the beginner student. The online learning option contains all 3 levels, and is more affordable at $259. The difference being that lessons are solely accessible online. Note that the CD boxset version also provides the learner with access to the online lessons, games and community. Both the CD boxset and the online program also come with access to the Rosetta Stone mobile apps for on the go learning.
The program is exceptionably user friendly, and notable improvements have been made on previous versions. These include using culturally apt pictures rather than random images, and improved voice recognition software that helps the learner master pronunciation, a useful tool when learning the often guttural accent of the Dutch language. The online learning option is innovative but slightly restricting in that you can't download files for digital transfer to smartphone and tablets, although the mobile apps are provided to counterbalance this. The 12 month subscription is also a little stingy to say the least. At $259 one would expect a minimum 24 months access. Language Learning is still heavily based around image association and can become a little tedious, something Rosetta Stone might consider changing for version 5, but then this has been their trademark learning technique since inception.
Summary
New and improved, multi-platform Dutch language course
Great for beginners with great new interactive online features
Improved voice recognition tool
Access to new online lessons and a learners' community
Not comprehensive enough for fluency
Online learning version requires constant Internet access
Image recall learning can become a little tedious
Expensive for the 3-level boxset version ($259)
Conclusion
Rosetta Stone Dutch is a good Dutch learning software for beginners, utilizing "total immersion" to quickly introduce the learner to basic wordplay. However, the picture-word matching approach isn't ultimately that useful for learning colloquial phrasing. That said, as the program shifts to levels 2 & 3, it begins to combine real-life situations and audio using quiz-like exercises to advance proficiency. Rosetta Stone has made a step into the new decade of language learning and Totale is undoubtedly an impressive offering, if not a little boring in the early stages of learning. However, this is counteracted by cool mobile apps and online games and community interaction. Sadly, however, the price tag is restrictive for many, and the company are still not being as competitive as they should, especially when you consider that there are other options on the market with similar benefits at half the price.