"An decent course built on solid principles at a high price."
Pimsleur Russian Review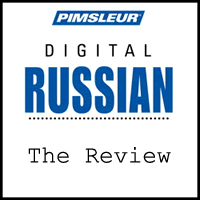 Russian is the 5th most commonly spoken language in the world. With over 144 million speakers it is used not only in Russia but also countries such as Belarus, Ukraine and Kazakhstan. One of the most popular and highly rated courses which teach this language is Pimsleur Russian. In this review I will look at whether this course lives up to its hype and if it is in fact the best way to learn Russian.
Key Features
Pimsleur Russian is available in levels I - III. Each level is made up of 30 separate units and totals around 16 hours of material. There are also additional readings provided.
Russian Conversational an introductory program is also available which is the first 16 units of Pimsleur Russian level I and costs $49.95.
This language course costs $345 per level for the CD version of the course and $119.95 for the MP3 version of the course.
Free sample lessons of the course are available on the Pimsleur website and shipping is also free of charge.
Pros
Fast and efficient way to learn the language - One of the best aspects of the Pimsleur approach is that you don't need to spend time learning the rules of the language before you can get started. The grammar patterns emerge naturally as you practice the sentences in this course. Learners can then use a more traditional approach to discover the actual grammar rules of the language once they have a basic grasp of Russian.
Perfect for auditory learners - We all have different learning modalities and for auditory learners the Pimsleur approach is perfect. Many students struggle in the classroom environment because they are taught using a textbook which doesn't suit their primary learning modality. For these learners the Pimsleur approach will make learning much faster and more enjoyable.
The material can be covered quickly - There is 16 hours of material in the course with each lesson approximately 30 minutes. If you listen to one lesson each day you will find that you make relatively rapid progress through the course. Because of the spaced repetition method used by Pimsleur you will find that you have actually memorized the material and that you don't need to repeat the course. This is excellent for people who may only have a month to prepare for a trip but want to have basic conversational fluency before they leave.
Great for learning in your car - One of the main ways that people like to learn a new language is in the car during their morning commute. The Pimsleur method is perfect for this because there is no written instructions or software that you need to use. If you are looking to learn in your car it is highly recommend that you choose the Pimsleur Russian course.
Cons
No written instruction - Cyrillic which is the written language of Russian is used by approximately 252 million people worldwide. It is in fact one of the most common writing systems in the world. Many people who study Russian will also want to have an understanding of the written language which Pimsleur does not really cover. This means having to purchase a separate course which adds an additional expense. If you do want to learn more about the grammar and the written language a good accompaniment to the Pimsleur course is "The New Penguin Russian Course" available in paperback for less than twenty dollars. This handbook is beginner friendly and covers some of the holes in the Pimsleur course.
Watch out for differences in dialect - One of the most common objections to the course is that the material taught is different to how people actually speak in the country. In particular many visitors to the Ukraine find that their Russian is not clearly understood. This is to do with different dialect differences which can make the Russian you learn with Pimsleur difficult to understand depending on what region or country you are visiting. This is not actually a fault with the course but is something that you need to be aware of so that you do not have false expectations you will achieve.
More expensive than other courses - If you are on a fixed budget then this course may not be the most appropriate for you. At $345 it is highly priced for an audio only course. In comparison Rosetta Stone Russian is priced at $134 for each level and $329 for the entire three levels. An even better alternative is transparent Russian which costs $179.95 and includes all of the same features as Rosetta Stone Russian.
Russian conversational is too basic - Pimsleur offers a smaller version of Russian level I as a conversational course for $49.95. However I would not recommend that you purchase this level as the material covered in the 16 lessons is too basic as to be useful. If you are planning on investing in Pimsleur Russian you would be better selecting level I or alternatively choosing a less expensive course.
Summary
The audio lessons are great for learning on the road.
The spaced repetition approach makes you speak the first few sentences quickly.
Perfect for auditory learners.
Doesn't cover the writing part.
The conversational lessons are too basic.
A tad pricey at $345 just for the audio course.
Conclusion
Pimsleur Russian is one of the best courses available for learning spoken Russian. The Pimsleur's approach of used spaced repetition of the core words and phrases means that you don't need to repeat the material in order to memorize it. Provided that you are consistent in your approach and follow the instructions properly you will find that you can make rapid progress with the course.
For more advanced students which are looking for grammar lessons and instruction in the written language this course is less well suited. As noted in this book a good addition to this course is the new penguin Russian handbook which is inexpensive but covers these areas in more detail. The other major disadvantage to Pimsleur Russian is the cost. If you are looking for a more affordable, yet comprehensive alternative, a good choice is Russian Language Tutor by Transparent Language Inc. This software program has many useful features, is highly interactive and is used by the US department of defence to teach its employees Russian.
Overall this is an excellent course built on solid teaching principles and with very high production values. If you want a fast and easy approach to gaining basic conversational ability in Russian and you can afford the high price tag then this is a great choice.