"Overall it's an excellent course to learn basic Hindi."
Pimsleur Hindi Review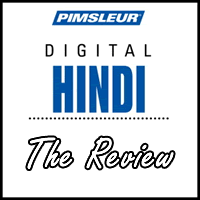 With approximately 487 million speakers, Hindi is believed to be the second most commonly spoken language in the world. And with the rising economic importance of India and interest in travel to the county there are many people wishing to master the language.
Pimsleur promotes its Hindi course as being one of the fastest and most efficient ways to learn to speak Hindi. The course uses the Pimsleur teaching methods which were first developed in the 1960's by the famed linguist Dr. Paul Pimsleur. With an entirely audio based teaching method it aims to replicate the organic language learning we develop as children. This review will look at whether Pimsleur Hindi delivers on its promise to teach conversational Hindi in a short period of time.
The Key Facts
It's a 8 CD course which contains 16 lessons. Each of the 16 lessons is approximately 30 minutes each.
Audio based learning course available in CDs or MP3.
Uses Pimsleur method of organic learning with graduated learning intervals and anticipation.
Priced at $265.95 in total.
Pros
Hear Native Speakers - Because Pimsleur Hindi is a conversation based course it is an excellent way to hear Hindi spoken in a native accent. Over time you naturally develop pronunciation which reflects the native language speaker.
Pimsleur Uses Proven Methods - Pimsleur has been teaching people to speak foreign languages since the 1960's. Their use of graduated learning intervals and the principle of anticipation have helped hundreds of thousands of people to gain conversational skills in a foreign language. When you use a Pimsleur course you can trust that you are using a method that is able to produce the desired results.
Learn on the go - Because Pimsleur is taught through MP3s or Audio CDs you can listen and use the course wherever you are. This does not mean that the course is passive and you do need to concentrate hard to produce the right answers but is good for commuting in the morning or while going for a walk.
Free Shipping and Handling - Pimsleur offers free shipping and handling on its language learning courses. There is also a free lesson available on the website where you can test out Pimsleur Hindi and see if you enjoy this learning method.
Excellent for Obtaining a Working Knowledge of the Language - If you want to gain a basic working knowledge of Hindi then this course is an efficient way to achieve this. While you may not be able to speak perfect conversational Hindi after using the course you will understand how the language is structured. Pimsleur Hindi is a good starting point for learning Hindi.
Cons
Not Commonly Used Hindi - One of the biggest disadvantages to Pimsleur Hindi course is its use of archaic Hindi. Many of the words and phrases used in the course are old fashioned and rarely used in everyday Hindi. This means that even if you study with the course your Hindi may end up sounding rather strange. While the Hindi in the course is technically correct it is not the way that a normal person would actually speak.
Basic Learning Only - The Pimsleur Hindi course only covers the basics of Hindi. This means that it is best suited for people looking for a fundamental conversational Hindi for travel. It is not well suited for people who need to learn more advanced or nuanced Hindi such as academic students, business travellers or full time residents of India. Other courses such as Rocket Hindi cover more material than can be found in Pimsleur Hindi.
No Written Hindi Instruction - The fact that Pimsleur Hindi is an entirely audio based course is both strength and a weakness of the product. The advantage is that you are not distracted by trying to learn the written language and so can make faster progress with spoken Hindi. This is useful for visitors to the country who may only need to speak some basic phrases. However for anyone who wants to master written Hindi the lack of instruction in this area will be a major drawback.
No Instruction On How To Make Sounds Correctly - Hindi uses sounds which are unique and distinct from those found in English. Pimsleur Hindi presumes that you will be able to learn these sounds simply through imitation of the conversations provided. However most language learners need to be actually taught how to make these new sounds before they can begin to use them. Some instruction in this important area would have been useful.
Expensive For What Is Offered - At $265.95 Pimsleur Hindi is not as expensive as some of their other courses. That said it does not include anywhere near as much material as the Spanish, French or German language learning courses. Compared to other software based courses such as Rocket Hindi and Rosetta Stone Hindi it can appear quite incomplete. These language learning courses contain more content as well as many other helpful learning features.
Summary
Audio lessons are ideal for travel
Uses the proven Pimsleur method for spoken Hindi
Quizzes are a great way to keep one focused
A tad pricey ($265.95 in total, $9.95 + 4 monthly payments of $64)
Lack of writing materials
Sometimes too repetitive
Conclusion
While some of the material taught in Pimsleur Hindi is archaic you, it is not necessarily a deal breaker.
The major problem with Pimsleur Hindi is that it is a very basic course and students who want to go beyond this will need to purchase another program in order to achieve their learning goals. At times Pimsleur Hindi can seem out of date and doesn't include many of the other features included with modern language learning software. For example Rocket Hindi which contains the same audio based learning as Pimsleur Hindi also includes additional extras such as software voice comparison, online games and cultural lessons.
Overall Pimsleur Hindi is excellent for teaching basic, if slightly old fashioned, conversational Hindi. The Pimsleur method has a long history of success and is based on solid principles. However with arguably better language learning software products now available it may not offer the best value for money. Given the popularity of the Pimsleur teaching method it is disappointing that they have not produced a more complete and "real" Hindi language course.