"A solid introductional course to get started."
Pimsleur Japanese Review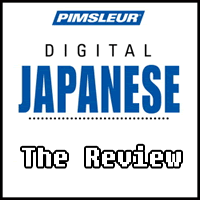 Japan is a very popular destination for both business and travel. Because many Japanese only speak a limited amount of English if you want to get the most out of your stay you really need to learn at least some spoken Japanese. Unfortunately for many foreigners learning Japanese can be daunting. Pimsleur's Japanese language program offers a quick way to get started and can have you talking basic Japanese in a very short period of time. However as you will see in this review the course has serious limitations that you should be aware of before buying.
Key Features
This language course comes in three different levels. Each level includes 30 lessons plus cultural notes.
It uses an audio based teaching method which requires you to produce the language on demand.
The course is priced at $345 per level for the physical CD version or $119.95 for the MP3. The levels I - III can also be purchased as a bundle for $695.
Pros
Low barriers to getting started - Knowing where to start when learning Japanese can be difficult. Given the fact that there are three different written languages - Hiragana, Katakana and Kanji (more info about Japanese writing systems on Wikipedia) - and the complexity of the grammar, it can sometimes seem overwhelming. This course has made getting started much easier. Simply begin listening and provide the answers at the prompts and you will find that you are naturally learning Japanese. While you will not achieve anything approaching conversational fluency with this approach, it is a good place to get started.
You can learn on go - This is an excellent way of learning the language for people who are time poor or who want to learn on the go. However you do need to concentrate carefully so don't expect to be able to multi task. You will also get the best results if you speak aloud, which may be embarrassing depending on the context.
Cons
500 Words is not enough for Japanese - One of the main principles of the Pimsleur approach is the idea of teaching core vocabulary. With each level of its Pimsleur course it aims to teach 500 words, so that over three levels you develop a core vocabulary of 1,500 words. With European languages this focus on the core vocabulary is generally successful. However Japanese is a complex language and the 500 words taught in each level fail to deliver the basic communication skills required. For example the words used for talking about those you are familiar with differ from those with outsiders. There are also different words for older and younger relatives. All of this necessitates more than the basic 500 words which are provided.
Formal Japanese used - There are different levels of formality that can be used in Japanese depending on who you are talking too. Pimsleur Japanese uses a formal form of address. While this can be a safe way of talking as you will not offend anyone, it can seem overly formal if you are talking with friends. This may make you appear slightly aloof. This is not a significant problem however as you will still be understood and Japanese people will not expect you to understand all of the nuances of the language.
Complexity of grammar - Another issue that occurs with Pimsleur Japanese is the complexity of the grammar. Japanese uses a variety of different verb endings and these are not covered in a systematic or comprehensive manner. The organic approach that Pimsleur is famous for works well with European languages but seems to fall short when it comes to teaching Japanese. Japanese grammar is simply too complex for most foreigners to infer simply by listening to conversations.
Too expensive - This is an issue that occurs with all of Pimsleur's products but is particularly problematic for the Pimsleur Japanese product. With no real instruction in reading, writing or grammar this course is simply too expensive at $345 per level. To gain even intermediate conversational ability in Japanese you really need to purchase all three levels of the course and this can end up costing you almost $700. In comparison Rocket Premium Japanese only costs $99.95 and Rosetta Stone Japanese is $324 for all 3 levels. You can save money on Pimsleur Japanese by purchasing the downloadable version on MP3 which reduces the price about a third.
No progress tracking or adaptive testing - Many people who are interested in purchasing the course will have studied the language before. Unfortunately there is no way of assessing which of the three levels that you should begin with. Given the high cost of each of the levels this can be a significant problem. The lessons in level 1 will be too elementary for people who have studied the language before and will offer little benefit.
No written language instruction - Pimsleur has avoided teaching the written Japanese language altogether. This is a significant issue for travellers to Japan as many of the signs are not written in English. While learning written Japanese can be difficult, some explanations of Hiragana and Katakana would be useful. Given the high cost of the course the lack of reading and writing material is a major let down. The cultural information provided is useful but this information could be freely obtained on the internet.
Summary
Awesome audio lessons for on-the-go and on-the-road usage
A great course to get started (well suitable for beginners)
Easy to use and to navigate user interface
Only teaches a vocabulary of 1500 words (which is not enough)
Expensive course (all levels cost almost $700)
Lack of progress tracking
Conclusion
This course is a good introduction to speaking Japanese. With the complexity of the grammar and written Japanese, learning the language can be daunting. But with Pimsleur Japanese you can get started right away and gain a basic understanding of the language. However by disregarding some of these fundamental aspects of the language it also means that the course is extremely limited.
In my opinion this product is an inferior course compared to the companies offerings in French, German and Spanish. If you are looking to gain a reasonable level of conversational fluency as well as understanding of how to read and write Japanese then you will need to purchase other resources in addition to Pimsleur Japanese. Given the high cost of this course you may be better opting for a less expensive product such as Rocket Japanese.