"Proven approach in a comprehensive package."
Living Language Japanese Review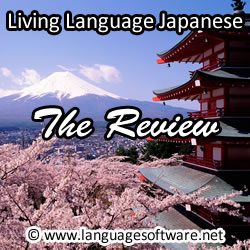 Konnichi-wa! If you are anything like me, then you have probably tried - and failed - to learn Japanese in the past. Japanese is known to be one of the more complex languages for English speakers to learn. Japanese contains three types of alphabets, thousands of characters, and requires varying levels of politeness depending on the situation.
Many courses have tried, but failed, to teach Japanese in a comprehensive way. If customer reviews are anything to go by, one of the courses that manages to achieve this objective is Living Language. Naturally, I had to try it for myself and see if it would work for me. In this review I will share my experience with Living Language Japanese and whether I recommend the course to other Japanese students.
How much does it cost?
There are two main options for purchasing this course. The online course for $150 and the Platinum edition course for $179. The main difference between the two is that the Platinum course includes physical CDs and textbooks, where-as the online course features downloadable versions of the same material.
What's included?
Living Language offers a complete course which takes new learners with no ability through to an intermediate ability in Japanese. The course includes 46 Japanese lessons that cover grammar, vocabulary, conversations, and Japanese cultural notes. These are supported with games and puzzles designed to improve retention. Customers are also given access to e-tutoring sessions where they have access to a native Japanese speaker. There is also the online community which features other Japanese language learners and Japanese language experts.
Pros
Teaches the full Japanese alphabet - One of the hardest parts of learning Japanese is mastering the alphabet. Written Japanese is composed of Hiragana, Katakana and Kanji. Kanji, the Chinese characters, are particularly difficult for many English speakers to learn because of the number of characters. Some language courses avoid this problem by simply providing Romanji versions. In contrast, Living Language provides full instruction in writing and reading Japanese.
Uses a proven method - The same method used by Living Language has been used by the US Department of State to teach top diplomats for more than 50 years. When you use the Living Language approach, you know you are using something that has been proven to work.
Multimedia learning - It uses a multimedia approach to teaching the language. There is conversation practice, audio lessons, written exercises, reading passages, games, and quizzes. This keeps the course interesting and ensures working with a variety of learning modalities.
Tutoring service is very useful - When you purchase either the Platinum or online course, you get access to an e-tutor. This is a native Japanese tutor who will help you with the course material and answer any questions. These Japanese tutors are well organized and very helpful indeed.
Cons
Not suitable for the short-term traveller - If you are looking for some survival Japanese for a short-term visit to the country, then this course will not be the right option for you. This is a comprehensive course that takes you through to an intermediate ability in Japanese. There are cheaper courses that do a better job of teaching survival level Japanese. With Living Language it takes longer to cover these survival phrases, because it concentrates on building a solid foundation in the language first.
Requires serious commitment on the part of the student - As mentioned before, Living Language is not designed for short-term travellers. It uses a traditional textbook approach to teaching Japanese that requires you to complete exercises and read through passages. To receive the best results you need to make consistent efforts on a daily basis. It isn't an easy course, but it does produce results.
How does it compare with other Japanese courses?
Living Language Japanese is mostly commonly compared to Rosetta Stone Japanese. While these two courses do have some similarities, they also have some significant differences. The most noticeable difference between the two courses is the price. It's priced at $150 for the online course. In contrast Rosetta Stone Japanese levels 1-3 is priced at $259 (my review). The significantly lower price for the Living Language program immediately makes it a more attractive option. The lower price isn't the only reason to choose Living Language over Rosetta Stone. If your goal is to become fluent in Japanese, you are going to get much further with Living Language than with Rosetta Stone. The course is more comprehensive and focuses on practical Japanese that you are likely to use.
Another popular Japanese course is Pimsleur Japanese. Pimsleur Japanese is primarily an audio-based course (my review). In contrast, Living Language focuses on reading, writing, and spoken Japanese. The additional value proposition of purchasing Living Language course should be immediately obvious. That said, Pimsleur Japanese is very good at teaching how to hold a conversation in Japanese without requiring traditional textbook methods. If you struggled with the classroom environment, then Living Language Japanese might not be the right choice for you. Pimsleur Japanese only requires that you listen to the audio and then produce Japanese in the provided spaces. Getting started with Pimsleur Japanese is faster and easier. But if you want a comprehensive understanding of Japanese, opt for Living Language.
Finally, Rocket Japanese is perhaps the most serious competitor. Rocket Japanese has a number of features that Living Language also offers. This includes quizzes, games, conversation practice, online community, reading and writing exercises. One advantage of Rocket Japanese is the guides that take the student through the course (my review). These guides offer more personal insights and hints about how to learn Japanese. This can make Rocket Languages seem more personal in comparison to the more sterile approach offered by Living Language. When it comes to price, Rocket Japanese is the clear winner. The online courses currently is priced at $99.95 which is $50 cheaper than the online access to Living Language. Rocket Japanese also provides 6-day free trial for new students.
Summary
Teaches the full alphabet.
Includes lots of multimedia exercises.
The e-tutoring lessons are a helpful addition.
Not well suited for quick business travel learning.
Method requires a lot of dedicated focus.
The online community lacks responsiveness.
Conclusion
Learning Japanese isn't easy. If you want to make good progress, you need to be committed and willing to put in the time required. Students willing to devote themselves to the Living Language approach can see good results. The course is sometimes a little dry, but it is effective. That said, Rocket Japanese covers much of the same ground as Living Language, but at less than half the price. If you are going to learn Japanese, I recommend that you choose either the Living Language or Rocket Japanese. Whichever course you select, good luck with your studies or - as they say in Japan - Gambatte!