"The academic approach is great for intermediate language learners."
Living Language Portuguese Review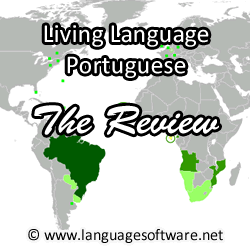 With an upcoming trip to Sao Paulo it was time to move beyond my basic Portuguese skills. Looking at the available Portuguese courses one of the stand outs was Living Language Portuguese. Living language Portuguese has received some raving reviews from its customers and so I wanted to see if it lived up to the hype. Below you will find the results of my experience using the program for a while.
How much does it cost?
The online version is priced at $150 and can also be purchased as a gift.
What's included?
All the content contained within the course is delivered over the internet. The main part of the course is 46 Portuguese language lessons. These cover Portuguese grammar, vocabulary, conversations, and cultural notes. Another element of the Portuguese online course is the e-tutoring. This is one-to-one practice with a native Portuguese speaker. Lessons with the tutor can be booked online. Members of the Portuguese online course have access to the Living language online community, where they can meet other Portuguese students and native Portuguese speakers. To make the material more fun Living Language has included quizzes and games.
Pros
Teaches a large amount of vocabulary - One of the most impressive things about Living Language Portuguese is the large amount of vocabulary that you are taught. While Rosetta Stone and Pimsleur Portuguese are more expensive, Living Language Portuguese is an equal match for both of them in this regard.
Clear pronunciation on the audio tracks - The production value and speakers are of first-class in this course. Pronunciation is very clear and easy to emulate. If you are looking to improve your Portuguese pronunciation, you can't go wrong with this program.
Exercises and additional notes - Living Language Portuguese always makes sure that there is plenty of reinforcement of the material that you are learning. There are exercises and additional notes at the end of each lesson which help to reinforce and elucidate the main concepts.
First class tutoring - One of the better features is the online access to native Portuguese tutors. The tutors are extremely well organised and a fantastic addition to the course. If you are having any issues with your study, these tutors will quickly clear up your problems. Having a human being to talk to is a major advantage and something that almost all other language courses lack.
It's relatively inexpensive - Compared to many other Portuguese courses of the same size, Living Language is relatively inexpensive. With a price tag of only $150 for online access it will be affordable for most customers. When you consider the value added by the online tutoring, it's a real bargain.
Course was well constructed - Some language courses seem to jump from concept to concert with no clear direction. The program doesn't suffer from this problem. Each of the lessons builds upon one another so that you feel you are making real progress. The progress marker that records which lessons you have completed also helps this sense of achievement.
Cons
Not enough space left to repeat phrases - When you are beginning the course, you may find you don't have enough time to repeat the phrases and words. A slightly longer pause would be helpful for people new to Portuguese.
Not well suited to short-term visitors - Living Language aims to get you to an intermediate ability in the language. There are better courses, such as Pimsleur, if you aim to learn some survival Portuguese. If you're spending only a few days in Brazil or Portugal, opt for a different course.
Arguably too much English - Living Language Portuguese never keeps you guessing. There is a clear explanation of any grammar or vocabulary. Unfortunately the downside to these explanations is that it sometimes feels like there is too much English in the audio.
How it compares to others
One of the first things that most people look at when comparing a language course is the price. In this regard Living Language Portuguese holds up very well. Rosetta Stone Portuguese levels 1 to 3 is priced at $259 and Pimsleur Portuguese is priced at $265.95 for the downloadable version. At $150 for the online version it's significantly cheaper. The only other more affordable course is Rocket Portuguese priced at $99.95.
The advantage of both the Pimsleur an Rosetta Stone courses is that they are relatively quick to get started with. With Pimsleur in particular, you can make relatively fast progress compared to the Living Language method. However, Living Language Portuguese is a much more comprehensive course that requires serious dedication to see good results. But, provided that you are willing to commit to the materials, it will give you better Portuguese skills than these other two courses by the end of your studies.
In my opinion the audio component of Rocket Portuguese is superior to that of Living Language. The audio part tends to consist of single words or phrases. In comparison Rocket Portuguese provides full-length audio that can be listened to and from anywhere from 15 minutes to 25 minutes. Given the lower price of Rocket Portuguese and the fact that is uses a similar teaching approach, I would recommend purchasing Rocket Portuguese over Living Language Portuguese.
Summary
The online tutoring sessions are a useful feature even though access is limited to one year.
Notes at the end of each chapter help to reinforce and elucidate the main concepts.
Considering its comprehensiveness it's relatively inexpensive.
Lacks lessons for beginners and useful basic phrases for travelers.
Too much English text in the instructional phases of the course.
Length of pauses during repetition could be a tad longer.
Conclusion
Living Language Portuguese is a great way to gain an intermediate ability in Portuguese. While you probably won't become fluent using just the course, you can acquire very good conversational, reading and writing skills. It's at times a little dry and does require consistency and work to produce good results. Overall it's a good course, but in my opinion Rocket Portuguese is still the superior product.