"An average Spanish course for a high price"
TELL ME MORE Spanish Review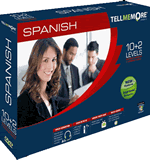 It is estimated that currently over 500 million people on this planet are speaking Spanish. Cultures from all over the world have chosen Spanish as their native languages. People in the United States are learning Spanish as a second language. There are many reasons why someone would like to speak Spanish, but what is the best way to learn a foreign language and be able to walk away with a full understanding of not only the language, but the culture as well? Tell Me More Spanish has an easy solution that will have you speaking, reading and writing Spanish in no time at all.
How well do you think that you will be able to learn Spanish if you don't know how to properly pronounce each word. Auralog, the company behind Tell Me More language software was the very first company to use speech recognition in a foreign language software program. They have had plenty of time to perfect it too. Not only can it detect pronunciation errors in the words that you are trying to speak, but it can also precisely detect errors on a sentence and phonetic level as well. By analyzing your voice, the software makes a picture of the sounds. It can then easily detect where you may be mispronouncing words, sentences and even syllables. All it takes is a computer, and a microphone to use this powerful learning feature.
You could always learn Spanish in a classroom environment where you sit in your seat and listen to the boring instructor drone on and on. Let's face it. Most language instructors can be boring, but have you ever thought about why they can be boring?
There is no interaction. It is a "teach talk" and a 'student listen' type of learning environment. It is easier to learn Spanish by using interactive tools that teach you how to speak while you interact with them. It makes people feel like they are a part of something, which encourages learning.
If you look back at the teacher situation again, then you will understand that when things get boring, learning becomes a challenge. By creating fun and challenging exercises, Tell Me More Spanish actually makes learning how to speak Spanish a lot of fun. Start with the basics of word pronunciation, and then work your way up to more challenging things like real world conversations where you will have to chime in and join the dialog.
Summary
Guided or Individual mode
Speech recognition technology
Developed by Experts
Good reputation
High price ($529 for all levels)
Rather slow on older computers
Conclusion
Learning Spanish does not have to be difficult, and Tell Me More Spanish can make your learning experience fun, if you want to pay the high price. Each lesson and interactive activity is designed to make you want to see what is around the next corner, but it's not the same quality experience as with other programs we've tested. You can learn anytime that you want, and you can do it all from the convenience of your own home. If you are looking for a better Spanish learning software with a great set of audio lessons and games at a lower price, check out my comparison.