"Contains a massive amount of material, without being overwhelming."
Fluenz Spanish (Spain) Review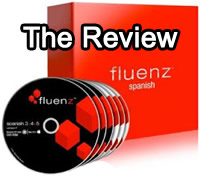 In the language learning market, Rosetta Stone (review here) dominates, with approximately 90% of the market share. However in recent years that domination has been challenged by a newer entrant - Fluenz (website).
While the range of courses offered by Fluenz is more limited, in the languages they do cover, they tend to outsell the established competition. Each Fluenz course is designed from the scratch, so that it is completely tailored to that language.
Fluenz courses also incorporate a unique, video guide which takes the learner through all of the exercises and replicates the one to one experience of having a personal tutor. With Fluenz Spanish your video tutor is Duare Perez, who is a graduate of Oxford College and a native of Madrid.
In this review I will be looking at one of Fluenz most popular products, Fluenz Spanish 1+2+3+4+5. This is the complete Fluenz Spanish course, which takes complete beginners all the way through to advanced Spanish language skills. Here you learn about all of the features of this course, how much it costs and the teaching style of the program. If you're looking for a review of the Latin America version, check out my review here.
I will also explain the aspects of this course that I like the most and how it compares to some of the competing products on the market. In addition I will detail some of the flaws and limitations of Fluenz Spanish. Understanding these limitations are important to know, as the course is not inexpensive, so you want to make a properly informed buying decision. At the end of the review I will give my overall conclusion on the Fluenz Spanish course, and whether I think it is worth the price tag.
Features
DVD -ROM Software - The main Fluenz Spanish course is contained within 5 DVDs. On each DVD, video tutor Duare Perez guides you through the exercises for this level.
Audio CDs - Fluenz Spanish comes with five audio CDS, with each one matching the corresponding DVD course. These are designed to allow you to practice your Spanish while you are travelling by car. They can also be used in your stereo or copied to your iPod or MP3 player.
Fluenz Navigator - This is a convenient, pocket sized reference guide which includes the most critical words and phrases that you need when travelling.
How much does it cost?
For the total Fluenz Spanish course which includes all five language levels it costs $398. This includes free shipping in the United States and a 30 day money back guarantee. The guarantee allows you to return the course for any reason during that one month period.
Pros
Clear Explanations - One of the best things about having a video tutor is the explanations that are provided for points of grammar. It can be difficult to try to understand when to use certain sentence constructions, but Spanish Fluenz tutor Duare Perez explains these in clear detail. While Duare Perez is a native Spanish speaker, this Oxford college graduates English is faultless and very easy to understand.
Highly intuitive design - Fluenz has a very strong design focus. Not only does the software look great but it is also very intuitive to use. Fluenz Spanish comes with tutorials, FAQs and a reference guide, but none of these are necessary to operate the software. The video guide takes you through each of the exercises and explains clearly what you need to do next.
Structured lesson plans - One of the most frequent complaints people have about other Spanish language programs is that they focus too much on immersion learning but lack clear structure. Fluenz has deliberately designed the lessons so that each teaches a specific point about the Spanish language. This means that you gain a much deeper understanding of how Spanish really works, rather than just the ability to say a few set phrases and expressions. As you work through the levels you gain a real sense of progress and can see your abilities developing.
Teaches real world Spanish - One of the problems with language courses such as Rosetta and Rocket is that the Spanish that they teach isn't always very practical. Fluenz have made sure that the phrases you learn are those that a modern Spaniard would actually use.
Excellent customer service - Fluenz offers unparallel customer service. There are numerous ways to get in contact with Fluenz and get support. Fluenz offers live chat on their website, as well as offering a contact form you can use for queries. They also have phone support during working hours. Finally Sonia Gil and the rest of the Fluenz staff are active on social media sites such as Facebook, offering another way to contact the company and ask questions.
Cons
Its expensive - This is a high quality product, but it has a matching price tag. If you are on a fixed budget and not looking to invest too much money, then Fluenz Spanish may not be for you.
Fixed video size - The video size cannot be adjusted. This is not so much of a problem on normal video screens, but if you are using a 28 inch screen or larger, you may find the black space around the video distracting.
Summary
Focus on real world situations
Very intuitive user interface
Great customer support
Video size cannot be adjusted
High price tag
Conclusion
The fact that Fluenz Spanish is the best selling Spanish language product in the Amazon Marketplace, says much about the quality of this product. It is even more impressive when you consider that this is for a product that costs several hundred dollars. In my opinion that price tag is entirely justifiable, given the high quality and comprehensiveness of this course.
Fluenz Spanish contains a massive amount of learning material, but it never seems overwhelming. The software is easy to use and while there is plenty of tutorials, they are largely unnecessary. Having video tutor Duare Perez is as close an experience to having a one to one teacher, as you are likely to experience without hiring a private teacher.
Overall this course is highly recommended to anyone who is looking to master Spanish. While Fluenz Spanish is not cheap, if you are serious about your Spanish language learning, then this is the course to buy. However, I do recommend to check out my comparison with other Spanish programs and online courses here first, before you make a rash buying descision that you might regret later.