Byki Arabic Review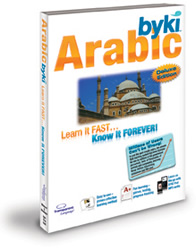 BYKI Arabic is an effective way to learn the Arabic language. The most common motivation for learning Arabic is interest in Islam and being able to connect with native speakers of this language when travelling. Knowing how to speak the language will show the locals that you respect their culture. As the culture and language have a symbiotic relationship, learning the language will allow you to understand their culture and experience a new way of seeing the world from their perspective. Although Arabic has so many varieties, and some could even be mutually unintelligible, with Arabic BYKI Deluxe, you will at least know Standard Arabic, which is usually sufficient for the purpose of travelling.
Learning Arabic is easy in some aspects but difficult in others depending on your background. But it's just like learning any other language meaning if you have the ability to adapt to new rules and you have the dedication to study it, you will learn it more easily. Although rote learning is an effective method of teaching, it can become uninteresting for some students. As Arabic is difficult to translate because of its charm and secrets, Arabic BYKI Deluxe has all the features necessary to help you become better at speaking Arabic. You need a strong willpower to be able to carry out your Arabic language learning because you will not only be learning about words but relationships between lexicon and syntax. To attain fluency and familiarity with the language, you have to think in Arabic and practice what you learn every day.
As Arabic has different grammar than English doesn't make it difficult to learn as others are led to believe. But, you will definitely not learn the language overnight. Work at your own pace and don't rush it because you will never be able to comprehend the language if you do that. With the help of BYKI Arabic Deluxe, however, you will be speaking Arabic even after the first lesson because it includes useful phrases and words. It is the quickest and most direct path to achieving you language fluency goals if you have the patience to practice. Its style of teaching enables you to easily remember what has been taught and its personalized learning path will make it easy for you to master the materials even the ones you have challenges with.
The BYKI Arabic software can be purchased as electronic downloadable form compatible for both Windows and Macintosh. The sound files are in MP3 format so you can be transfer and use them even when you're on the go. Arabic BYKI Deluxe has a systematic curriculum so you learn Arabic in one of the best ways possible. It uses a flash card system and learning tools so that everyone can learn from children to adults. The other things I like about Arabic BYKI Deluxe are the easy installation procedure and user friendly interface. It also tracks you as you progress, and based on this, decides which flash card is most appropriate for you.
Summary
Latest language learning material
Good interactive emphasis on the fundamentals
High-quality audio lessons (Over 1'200 MP3 audio files are included)
All-in-one language learning solution
24h Support
Money-back guarantee
Conclusion
The best way to immerse into the Arabic culture might be to learn the Arabic language. Not everyone has access to great language learning software, but you have. And you can call yourself lucky, because learning Arabic can be easy for some and difficult for others. Using Byki Arabic Deluxe it's as easy as it gets. Carry this software along your travel and you'll be surprised at how quickly you will learn the language just by listening to how the locals speak and by applying the vocabulary you build up using the software. Concentrate on learning a few words daily and try to work of pronouns as there are variations to these words and you will find that understanding the language is faster than you think. Dedication is the key because the Arabic language is very different from English or other languages. This software is not bad, but Rocket Arabic is still my "Editor's Choice" and I would recommend it to everyone who wants to learn the Arabic language. You may read the review here and sign up for the 6 days free trial of the full course, which is a great offer.