"Not bad, but navigation and progression tracking need to be improved."
Berlitz Spanish Premier Review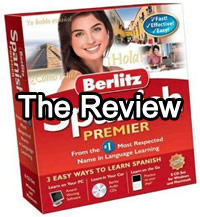 Berlitz is the largest and oldest language tuition company in the world. Started in 1878 it now operates in 140 countries. With Berlitz Spanish Premier it has taken the knowledge it has accumulated in immersion learning and transformed that it into a software program you can use to study Spanish at home.
In this review I am going to examine Berlitz Spanish Premier in detail and compare it against some of the other leading Spanish language programs on the market today. I will explain the features of this product and you can use it to achieve your Spanish language goals.
I will also highlight the aspects of this product that I like, and some of the things that I think Berlitz Spanish is missing out on. At the end of the review I will provide my final recommendation for the product and who I think will get the most value out of Berlitz Spanish Premier.
What are the features of Berlitz Spanish Premier?
There are three primary components of Berlitz Spanish Premier:
Software - This is the main component of the Berlitz Spanish Premier course. There are four main teaching methods in the software course. These are audio listening using conversations, video lessons, flash cards that teach through repetition and speech analysis. There are both Mac and Windows versions of the software available.
Audio CDs - Berlitz Spanish Premier comes with 4 audio CDs. These are designed to be listened to in your car or through any other listening device such as your stereo or iPod.
Ipod - The iPod lessons feature both audio and pictures. They also come with customizable word lists that help to reinforce your vocabulary learning from the software.
How much does it cost?
Berlitz Spanish Premier costs $39.95. This includes the Berlitz six month satisfaction guarantee. If you are unsatisfied with the product, you can return it for any reason following the six months after you have purchased it.
What I like about this courses
Proven learning method - Berlitz is famous for its immersion teaching method. This means instead of using a structured lesson plan, it instead moves directly into conversation and listening. This may be different to the way that some people are used to learning but studies have proven this to be an effective way to be taught a new language.
Multiple learning channels - Each student will have a different way that they like to learn. Berlitz Spanish Premier caters to these different learning modalities by providing multiple channels including MP3s, video, text, flash cards and conversation interaction.
Great for conversational practice - Berlitz Spanish Premier is focused on teaching its students how to hold a basic conversation in Spanish. While it is not as comprehensive as Fluenz or Rosetta, it does a very good job of teaching conversation. With in built voice recognition, you can see what mistakes you are making in your pronunciation and make the appropriate corrections.
Well suited for beginners - This is not an advanced language learning course, but it is very appropriate for new learners. The conversations are not too difficult, but they cover the basics that you will need for travel.
Excellent price - Berlitz language programs are all very competitively priced, and Berlitz Spanish Premier is no exception. For under $40 you are getting a language course that compares well to much more expensive programs such as Rosetta, Fluenz and Rocket which all cost several hundred dollars.
Repetition and review - Everything that you learn with Berlitz Spanish Premier is repeated and reviewed constantly. This means that if you continue to use the program you will find that you cannot help but retain the material. One of the main focuses of the program is the Flash Card System. This system tracks your performance, and makes the course progressively more difficult so that you are constantly being challenged and make improvements.
Cultural lessons - One thing that Berlitz Spanish has, that I haven't seen in many other language courses is cultural lessons. These are integrated into the main language lessons and are both interesting and useful. This also helps to give context to the conversational practice.
Easy to understand - Another nice feature of Berlitz Spanish Premier is the ability to click on any word and have it pronounced for you. You can also choose to slow down any piece of dialogue, so that you can hear it spoken clearly. This is a nice feature that other programs like Fluenz Spanish do not have.
Cons
Menu needs clarification - The initial menu for Berlitz Spanish Premier is slightly confusing. There are options for reading Spanish and conversational Spanish. It isn't entirely clear which one you should pursue first.
Games are uninspiring - The addition of games to this course is a nice feature but unfortunately they are not a lot of fun to play. The inclusion of more novel games would be an improvement to the program and encourage students to study more.
Lack of progress tracking - One feature that would really improve the quality of this course would be progress tracking. It is unclear how much progress you have made with your Spanish learning, which can be slightly discouraging.
Headphones needed - If you want to use the immersive conversation practice, then you will need to purchase a set of headphones as these are not included with the package. This is not surprising considering the product is priced under $40 but it is something that you should be aware of.
Summary
Good focus on immersion
Money back guarantee
Inexpensive
Sometimes confusing navigation
No progress tracking
Headphones not included
Conclusion
If you are looking for an inexpensive way to learn Spanish but still want to purchase a quality course, then Berlitz Spanish Premier is a very good choice. Clearer navigation and progression tracking are flaws that Nova Development could do to improve, but it is a sound program based on fundamental principles of language teaching.
At this price it is difficult to find a Spanish language program that does all of the things that Berlitz Spanish Premier can. Overall this is a comprehensive course, priced extremely competitively and with a great six month satisfaction guarantee. Highly recommended to beginner Spanish learners on a budget. You can compare it with other Spanish learning programs on the comparison page.