"Not a learning tool per se, but WS has the best writing feedback on the market."
WhiteSmoke Review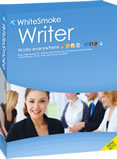 WhiteSmoke is a powerful and easy to use English writing and grammar check solution. It checks spelling, grammar and readability of your written material. It operates similar to the Microsoft (MS) Office grammar and spelling checker but is more advanced and intelligent. It automatically checks what I type in MS Word, in e-mails and when I write comments in web forms before sending or submitting them. It helps in composing any kind of written work, such as articles, essays and short stories, then quickly reduces or eliminates any grammatical errors. It is compatible with many of the most common applications like MS Outlook, MS Word, all chat programs or any text based application in the internet.
If you're a writer or a student and struggle with the complexities of grammar and spelling rules, then WhiteSmoke will be very useful for you. You don't need to be the best writer to qualify for a writing job, but you usually have more opportunities if you know how to write effectively. WhiteSmoke checker looks for spelling errors, grammatical errors and missing or misplaced punctuation marks.
WhiteSmoke has a greatly improved Type Checker, now known as Style Checker, that includes the WhiteSmoke patented Enrichment Technology, which sets WhiteSmoke apart from comparable services and other top-notch features that are very useful for writing. It contains more than 6 million enrichment corrections plus around 7.4 million grammar corrections. It also has an expanded dictionary and thesaurus available.
The current features had been specifically modified for making grammatically correct and stunning business documents. It enables you to add adjectives and adverbs to make your writing look more professional; it helps find the appropriate synonyms to each phrase you write; find the correct definition of a word; it provides samples to teach you how to use certain words more effectively and performs a web search for each phrase you select. Medical writers will find the medical software package very useful because of the more than 100,000 medical terms it contains that is used to catch spelling mistakes.
The WhiteSmoke checker is based on an algorithm that reads blogs, newspapers and web pages on a daily basis and uses the information for editing prose based on your selected type of writing style. The grammar algorithms are periodically updated to further improve the precision of the checker over many kinds of possible construction of sentences.
English Software's patented writing solution checks and corrects your writing with one click, so you easily can make sure your messages are getting across the way you want. Overall I found the software to be very easy to use and everything was working right away. You may use it in Word, Powerpoint, Email, and even Facebook.
The new NLP (Natural Language Processing) technology built-in with this software really works. It has proven itself to work, and properly enriches any sentence or text without changing its meaning. After installing it, I just had to mark some text and press F2 to get started. The built-in tutor (Works like a virtual teacher built-in) provides an instant feedback in the process of writing. When I started to use it at work, my co-workers were amazed at my proper grammar and spelling.
Summary
All-in-one writing solution (Grammar, spelling and sentence style check)
Works everywhere
Over 600 writing templates included
NLP writing technology
Price ranges between 79$ - 159$ USD
Conclusion
WhiteSmoke is, without a doubt, offering the best technology for writers out there at the moment. The text checking technology (NLP), quality of support, 30 days satisfaction guarantee, variety of promotions, 1-click operation, full compatibility to any text editor, and the great user testimonials make WhiteSmoke attractive for beginners, business people, students, or even professional writers.
Most of all, I enjoyed using the program, since it's easy to use and especially good at detecting difficult to spot typographical errors. Other programs may offer similar features, but not on the same level, WhiteSmoke does. All this makes WhiteSmoke the premiere choice if you are looking for a complete writing and grammar check solution. You can download it here.