"Good interactive emphasis on the fundamentals."
Jetset Spanish Review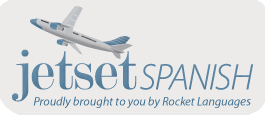 Jetset Spanish is a new Spanish learning product by Rocket Languages, a leader in the language learning online sphere.
Following the huge success of their normal courses they decided to re-work their Spanish learning program and to focus on two major problems many Spanish language learners struggle with:
The need for more practice speaking Spanish
The need to stay motivated during the course
Jetset Spanish combines this feedback with latest research results which are suggesting that visual learning, or "video", is one of the most effective ways to learn a language in general.
Most recent studies are actually suggesting to use videos courses preferably over any other teaching and learning method:
But... why?
Visual learning connects real-life situations with fundamental language learning rules.
Video easily helps to broaden a dictionary by playing fast-paced interactions, reviewing situations, refreshing learned phrases, so the Spanish learner actually can understand the meaning without prior knowledge.
To learn by watching videos experience many as entertaining, and therefore motivating without the anxiety associated with learning something new.
People who learn only by listening do have a handicap compared to people who learn by seeing and listening. This is what video lessons combine: Listening and seeing.
The new Jetset Spanish video course uses the motivating elements of interactive videos to immerse you in everyday language learning, and helps you to learn Spanish watching native Spanish speakers in real-life scenarios.
This program focuses on helping you to lose your fear of speaking the Spanish language at your own speed and your own time table. The real-life situation training is fun and keeps you motivated for the entire course of the Jetset Spanish program.
During the course you'll attend 15 interactive Spanish video lessons starring native English speakers. The course offers several topics you can explore, but the program guides you through them, and makes sure you don't miss any of the important phrases you need to know to finally speak Spanish.
Each topic features new words, phrases, and practical speaking tips in a different Spanish-speaking country. Listen and speak to native characters and try to respond to their questions.
Every lesson can be repeated as often as you like, giving you the chance to explore new sayings, phrases, and expand your dictionary. A good way to finally feel confident speaking Spanish!
Summary
Latest Spanish learning video course
Good interactive emphasis on the fundamentals
High-quality video lessons (Portable players are supported)
15 interactive Spanish video lessons
24h Support
Money-Back Guarantee
Conclusion
If you're new to learning Spanish or have been learning for some time, Jetset Spanish will put your Spanish skills (Speaking and reading) to a whole new level, the fun way. It's easy to use and all video files are downloadable and playable on Window and MAC computers, and even on portable devices. If you still don't know which program's right for you, you may check out my comparison of Spanish courses and programs here.