Byki Turkish Review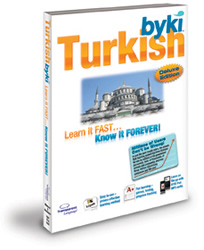 BYKI Turkish is a very effective and fun way of learning the Turkish language. The software locks the Turkish words in my memory so I could recall them correctly forever. Other learning systems rely too much on rote learning and although this could be effective, it quickly becomes tedious and boring for most students. BYKI Turkish is extremely easy to use and has all the features necessary to help you learn in fast and interesting manner helping you to easily retain whatever the course teaches you. Most Turkish language tools begin by teaching you grammar but Turkish BYKI Deluxe uses the different approach of building first your vocabulary of words and phrases.
BYKI employs useful words and phrases that resulted in me being able to speak the language even after only the first lesson. It took me thru the fastest and most direct route for achieving my goal of fluency in the Turkish language as it guided me through the review materials and taught me how to discern the spoken and written forms of every word so that I can express myself in Arabic on my own. Its style of teaching enabled me to easily remember what I just learned thru its Intelligent Refresh feature that allowed me to review the words that it just taught me. Another very useful feature is the personalized learning path that allows the software to differentiate between the materials I quickly learned from those that I found difficult, wherein, the things that I did not get right were shown to me repeatedly until I got them right.
BYKI Turkish Deluxe is suitable for all ages but is especially suited for the beginners with little or no knowledge of the Turkish language. It also uses a flash card system grouped into word lists consisting of keywords you can learn. The basic database contains over 2,000 words and 500 phrases which will keep you busy right away. After exhausting these you can easily download new lists with no charge from the developers' website. You can edit or print these lists. The software is available for purchase from the Transparent Language website either as an electronic download or as a boxed CD form that is compatible for both Windows and Macintosh computers. The sound files being used are in MP3 format that can be copied and used with an iPod or any other MP3 player.
There is a feature employed in the software called Pronunciation Practice that I found extremely useful. It utilizes speech comparison where you would repeat the words and phrases and the application analyzes and records your speech with the use of sound pattern graphs so you will know whether you pronounced the words correctly. With this approach you will quickly learn and retain how to speak certain words. Other things that I like about Turkish BYKI Deluxe are the easy and fast installation procedure, the uncluttered interface, and the ability to track your progress, which the software uses to decide which flash cards are most appropriate for you.
Summary
Latest language learning material
Good interactive emphasis on the fundamentals
High-quality audio lessons (Over 1'200 MP3 audio files are included)
All-in-one language learning solution
Friendly support
Rather pricey
Conclusion
BYKI Turkish Deluxe is the best software for learning the Turkish language. It is a well thought out program and I recommend it particularly for beginners because its user friendly and direct practical approach in teaching the language. It will also be very helpful for people who already have some idea about the Turkish language. By using this software you will easily know more about the deeper nuances of this language. One other great thing I like about this software is that it is affordable and gives good value for your money.