Byki Swedish Review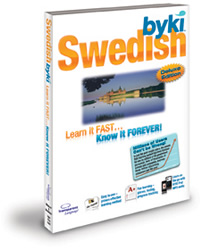 BYKI Swedish is the most effective and fun way for learning Swedish. I found the program very simple and easy to install and run either on my computer, palm pilot or pocket PC. I did not have any problems downloading and setting it up. But, if you experience problems, it comes with a user manual or you can look into their website for online FAQs and tutorials. If you problems you cannot solve on your own they also have an online support service.
Swedish BYKI Deluxe focuses especially in building up your vocabulary with five different modes to choose from: Know It, Own It, Produce It, Recognize It and Review It. These different modes allowed me to translate and say the words aloud as I was listening to the words being played. Its repetitive flash card-style is very helpful for anybody who wants to improve their Swedish language skills. The software is smart and can be personalized. I always look forward to using it because I find that it is very effective in teaching me.
BYKI Swedish Deluxe helped me to learn how to speak Swedish using a rapid 3-step process: 1) the software guided me through a review of the Swedish material that I had learned; 2) it taught me how to recognize the spoken and written form of each word; and 3) It enabled me to express myself in Swedish through writing and speaking. Studies show that the most important part in learning a new language comes from rapidly building a foundation of phrase and word knowledge. The developers must have taken note of this because this is what it aims to do for the student. It is the fastest and most direct method of achieving conversational fluency in Swedish. Where traditional language learning systems spread the learning process with a multitude of activities and lessons, Swedish BYKI Deluxe goes direct to the point with this 3-step process and right from the first session it teaches critical Quickstart phrases used in the most common real-life situations.
BYKI Swedish provided me with a personalized learning experience and showed my particular strengths and weaknesses recognizing the materials that I quickly learned and differentiating it from the ones that I was having difficulty with. It then focuses the lessons on the things that are particularly difficult for me and not waste the time repeatedly teaching the things that I already knew. I saw firsthand how well this personalized system works as it tracked my progress by charting the things that I had already learned. It allows for different testing options, including dictation, listening comprehension, written tests and more. It has a feature called "pronunciation practice" that helped me perfect my accent and it even has interactive games that serve as fun ways to accelerate my knowledge in the Swedish language.
Summary
Latest language learning material
Good interactive emphasis on the fundamentals
High-quality audio lessons (Over 1'200 MP3 audio files are included)
All-in-one language learning solution
24h Support
Money-back guarantee
Conclusion
BYKI Swedish Deluxe is a great way for learning Swedish as it is well designed language software that easily helps you learn words and phrases in Swedish. I would recommend it for people who know some basic Swedish and also to those who want to know more about this language. It has an affordable price tag that makes it good value for your money. The learning material is ultraportable and the MP3 audio files can be used in any MP3 player including your car stereo, if it is able to play the MP3 format. Aside from the PC and Mac versions there is also a version that can be used in mobile phones.