Byki Spanish Review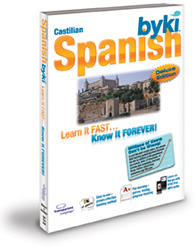 Are you looking for Spanish language teaching software that will do more than just look up the words? Then you should try BYKI Spanish - a feature rich Spanish language teaching and practice tool that will greatly help you build up your vocabulary and imprint in your mind those difficult Spanish words and phrases. If you like using flash cards for learning then Spanish BYKI Deluxe will be just right for you. In my experience, I first tried the free "express" version and I was hooked and so I upgraded to the deluxe version that allowed me to take full advantage of all the features that this excellent software had to offer. It has a very intuitive and user-friendly interface that I found appealing. Its teaching style combines smart drills with declarative and procedural exercises.
I experienced no problems during the download of the core program with the Spanish language module. Setting up BYKI Deluxe was done in a few simple steps and after adding my self as a user it was ready for operation. Immediately, I wanted to create a new word list and did this easily through the "Edit" tab and afterwards following the on-screen prompts. Indeed it is very intuitive and user-friendly.
With a price of $69 Spanish BYKI Deluxe is not cheap but this is less expensive than most competing software and I found it to be worth the price. In buying, you must specify the language you want after which you will be sent a list of thousands of phrases and words, situational vocabulary lists and parts of speech. You can also add your own custom list of words and phrases that are most important for you as well as edit existing lists. You are also able to share your custom lists by uploading it to the BYKI website and download custom lists uploaded by other users. You can make new flash cards on any subject and also add a voice recording for each new flash card. All the features for learning, reinforcing and testing are applied to the custom lists that you make. The program will make separate flash cards, drills and quizzes based on the lists you feed into it. You can use Spanish BYKI Deluxe for learning projects that involve definitions, terms and values.
Even when you are a new user of BYKI Spanish Deluxe you can immediately start using the software without the need for any tutorial. After adding yourself as a user, just navigate around the software and feel free to check all the tabs. Clicking on the "Learn" tab immediately takes you to the flashcard drills. Under the "Activities" tab you can have some self-testing and robust practice exercises as well as interesting interactive games. For reinforcing what you have learned, click on the "Test" tab where you can review the flashcards, write answers and take a listening comprehension or dictation test. There is an abundance of help and support options built into the software and from the BYKI website. The help menu has a video guide and a help directory with fast access to whatever a user needs to know.
Summary
Latest language learning material
Good interactive emphasis on the fundamentals
High-quality audio lessons (Over 1'200 MP3 audio files are included)
All-in-one language learning solution
24h Support
Money-back guarantee
Conclusion
For me, the best characteristic of the product is the intuitive and user friendly interface, which is not the most attractive but, is kept simple and focuses instead on how to best help students in learning the language with several innovative features. Spanish language tutors should recommend BYKI Spanish to all their students. They could instruct how to install it on their PCs or Macs because for sure they will greatly benefit from good basic practice in Spanish vocabulary and upgrading to the deluxe version will even further enhance their learning experience.