Byki Italian Review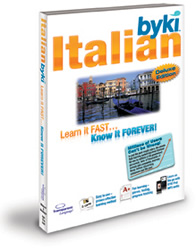 Learning the Italian language cannot be achieved overnight. It is a learning process and with the help of BYKI Italian. There are many ways of learning the Italian language and there are much language software available but the Italian BKYI Deluxe pack offers the easiest and the simplest way to learn the Italian language. It comprises with learning methods that directs you right to the point of the subject rather than doing the traditional way of learning the foreign language.
Many would agree that having a great knowledge and a foundation of phrases and words is one of the most vital parts of learning a language. That is where Italian BKYI is good at. This software enables you to enhance your learning capabilities and try to function your memory into a more fast and rapid way of trying to learn more about the Italian language. The Italian BKYI Deluxe will also fill up your memory with as many Italian words you could comprehend and there are also a lot of lessons and activities that this software offers.
To fully use this software there are some proven process to get the best out of it as the Italian BKYI Deluxe is the best software to choose from in learning the Italian language in the shortest way possible. First, this software will guide you on a thorough review of some Italian methods and materials that you will learn along the way. Second, it will teach you to notice the verbal and written forms of every word. And lastly, you enable yourself to express your desired Italian words through writing or speaking it on your own.
Don't waste your time learning the language all by yourself. Get the BKYI Italian Deluxe to provide you a highly personalized way to achieve success as it keeps track of your strengths and weaknesses and use it to your advantage. This software will also keep you focused on the materials you are studying and maximizes your extra time in dedicating to the Italian language learning. With this software, you can easily take note of your learning progress using the Intelligent Refresh where you can review the words you have previously learned.
By using the Italian BKYI Deluxe program you could learn the language faster because you can use it anywhere you go as the software is downloadable to your computer. It contains over 2,000 words and over 500 phrases. There is a personalized learning path and teaching lessons to enable you to increase the pace of your learning progress. There are also some images, a native speaker sound, tracking application, and pronunciation practice that could keep up with your progress so you could perfect your accent. This easy process of speaking and writing will help you to learn the Italian language faster.
Summary
Latest language learning material
Good interactive emphasis on the fundamentals
High-quality audio lessons (Over 1'200 MP3 audio files are included)
All-in-one language learning solution
24h Support
Money-back guarantee
Conclusion
The Italian BKYI Deluxe software is the easiest and fastest way to practice and learn the Italian language. As compared to other software, this will quickly enhance your skills and in no time at all you are guaranteed to communicate with the Italian locals on your own. If you're looking for a technically more advanced course with better materials, check out Rocket Italian.