Byki German Review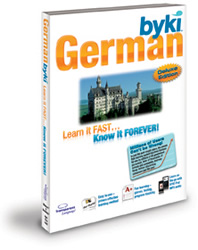 Learning a new language is a fun and exceptional experience. It adds to your personality and improves your job prospect abroad. With dedication and hard work you will be able to master the language in no time at all. German language is one of the foreign languages that are easy to learn because it has the same script as the English language so if you are good in English you will be able to easily adapt it. Dictionaries are your best guide so you can go through it to find new words. As pictures take you to the world of reality it will explain more easily and will give you a better understanding of the subject.
While traditional learning methods spread their learning methods in multitudes of lesson and activities, BYKI German gets right down to review guides and teaches you critical phrases you can use in real life situations so you will be able to express yourself in German. German BYKI Deluxe has a great flash card teaching method where you learn German using fun games. Well, they feel like games but each activity targets to the perfection of listening comprehension and pronunciation. These are also printable materials so I get to practice offline. There's an accompanying BykiPod MP3 audio files that work with your iPod or MP3 player so you can learn it even if you're not in front of your computer. Just load it to your player and you can listen and learn even when you travel. What I like about this software is the personalized learning where I can track my progress from previous lessons through its simple tracking feature. German BYKI Deluxe doesn't have the speech recognition feature though but you will hear the native accent to help you with the pronunciation. The main focus of BYKI German Deluxe is vocabulary and not much to the written language because it does not have grammar and conversation practice. This software is easy to install and it goes with screen help, manuals, email, and online support to assist you with your learning needs.
German BYKI isn't just a set of content; it's a tool for creating your own list like vocabularies from dictionaries and textbooks. I was able to share my flash card lists with Byki.com online community which also provides resources for finding more learning materials.
Summary
Latest language learning material
Good interactive emphasis on the fundamentals
High-quality audio lessons (Over 1'200 MP3 audio files are included)
All-in-one language learning solution
24h Support
Money-back guarantee
Conclusion
German BYKI Deluxe covers the speaking fundamentals for new speakers very well. Since I already knew a little bit German and am looking to brush up some speaking, this software is just right for me. If you are looking to brush up on some speaking and are looking for a sofware to build up your vocabulary by learning more words then this software is just right for you.