Byki French Review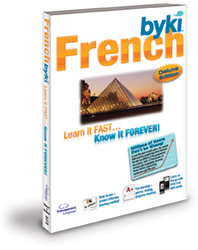 One of the obvious reason for learning French as a second language is to be able to communicate with the locals when travelling. People prefer it when tourists speak their language as it shows a sense of respect for the culture. As language and culture go hand in hand, learning a new language will open your mind to the new ideas of looking at the world. Speaking more than one language is a skill so that if you speak French you will have an advantage over someone who doesn't.
There is no magic formula for learning French but there are techniques so you can learn French quickly. Most learning materials, however, concentrate on rote learning. While this is a great way to learn, language learning materials should provide you with a good foundation of words and phrases. I found BYKI French easy to use as it has materials that helped me do better. Most of the foreign language tools start by teaching grammar but French BYKI Deluxe is different because it leverages the fact that you learn the language by collecting words and phrases. French BYKI Deluxe includes useful words and phrases so that you begin speaking after the first lesson.
French BYKI Deluxe is the fastest and the most direct path to achieving this goal because it guided me through a review material, teaches to recognize the written and spoken forms of each work so I was able to express myself in French on my own. I was able to remember what I have learned by using their Intelligent Refresh where I can review the words I've learned. One excellent tool I like is the personalized learning path because it recognizes the materials I learned quickly and those that I have issues with so it is shown to me more often until I get it right.
BYKI French is suitable for all ages but it's great for beginners and those with limited level of French. It comes as downloadable software or CD suitable for Mac and Windows. Sound files can be transferred to my iPod. BYKI uses a system of flash cards grouped into word lists each list consisting word lists and keywords so that I learn to put them in context. French BYKI Deluxe starts you off with more than 2,000 words and around 500 phrases so there is plenty to get started with. If you have exhausted them you can download new lists for free from their website. You will need a microphone and speaker as it has Pronunciation Practice so that you repeat the words and phrases while the software analyses record your speech using sound pattern graphs.
Summary
Very easy to install and use
Good value for your money
It tracks your progress and decides which flash card to show next
Each stage can be done in 30 minutes
You can edit lists, print, and add new lists
Speech comparison and fun activities
Money-back guarantee
Conclusion
BYKI French Deluxe is a great way to start learning French because it helps you learn words and phrases effortlessly. It is good for beginners or those who only know basic French. Best of all, it is reasonably priced and features various fun activities which make learning French a walk in the park.