Byki Chinese Review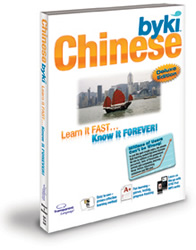 Studying the Chinese language means studying the people and their culture because it will help you understand what is behind the language and what makes it powerful. But learning the language is only half the battle. Knowing about the culture is another. But since this review is about learning the Chinese language, I will learn about some surprising facts about it and how BYKI Chinese can help you learn the easy and fun way.
Relatively, Chinese has a much uncomplicated grammar compared to English, German, or French because Chinese has no verb conjugation so there is no need to memorize verb tenses. Chinese language has no noun declension either. Of course, the basic word order is the same as in English like subject-verb-object. Chinese BYKI Deluxe uses 3-step teaching method that is designed to help the student learn Chinese words and phrases as fast as possible and at the same time recall them. First, you quickly go through all of the flash cards in your list to help you familiarize with the included materials before you start learning; second, you are shown and hear the words and phrases in Chinese then identify their English equivalents; and then this is reversed, now you hear and see the words in English and have to give their Chinese equivalent. After going thru these three simple steps you will find that you have progressed quite well.
BYKI Chinese Deluxe provides the basic vocabulary package for free. This vocabulary list though is based on Simplified Mainland Chinese characters that are not always understood in Taiwan, Malaysia or Singapore. The traditional Chinese characters which are being used in Taiwan are not present in this software. It starts with 17 vocabulary lists that will provide an excellent start for the beginners. After choosing a vocabulary list you are presented the Learning Mode screen where you select the activity you want to do. In each activity the flash cards are displayed randomly while the program takes note of your personal ability in recognizing the words and phrases.
Chinese BYKI could be used by any age group but is ideal for beginners with little or no knowledge of the Chinese language. It utilizes a flash card system that groups the words into lists and depending on your personal performance the software decides which ones to show you more often. The software provides tests to evaluate your personal progress and even has interactive games. You can even take the audio files with you anywhere and play them with any MP3 player to help you maximize your time while learning the language.
Summary
Easy to navigate user interface
Good interactive emphasis on the fundamentals
High-quality audio lessons (Over 1'200 MP3 audio files are included)
All-in-one language learning solution
Free blog updates
Low quality materials
Conclusion
More and more students around the globe are learning Chinese with enthusiasm and success. BYKI Chinese Deluxe is awesome Chinese language learning software that will teach you thousands of critical words and phrases in Chinese in a manner that is both fast and easy. It will help you perfect your pronunciation and accent with the use of native speaker audio. The flash card style is not the most exciting but is very effective in motivating a student. A slight problem though is that with the vocabulary being based solely on simplified mainland Chinese and totally neglects the traditional form of the language most commonly used in Taiwan, Singapore and Malaysia. Adding support for traditional Chinese could have made it more versatile.