WhiteSmoke
The proofreader's choice.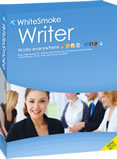 WhiteSmoke is an all-in-one grammar, spelling and writing style checking solution. It holds a huge database of suggestions, styling examples and dictionaries containing 1000s of enrichment correction variations, grammar corrections and spelling correction entries. In order to activate the program you simply have to press F2. Then, the program automatically checks for everything you might have done wrong and suggests better alternatives. While testing the software I also detected more complicated grammar mistakes, punctuation errors, passive verbs, overused words and wordy phrases.






RightWriter
Old-fashioned, cheaper alternative.

The newest version of Right Writer features their improved SmartGrammar' analysis engine which is able to perform advanced context-based text checking, looking for grammar, spelling or punctuation mistakes. Right Writer is rather new, but claims to be a good and cheap alternative to the other products on the market.




StyleWriter
A solid proofreading tool.

StyleWriter is quite a good tool that gives important feedback on your writing, but it lacks other important features, and its price is the highest of all tools. It still has a few miles to go through in order to become a real competitor to the other two.